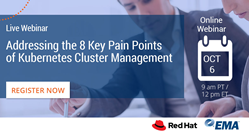 BOULDER, Colo. (PRWEB) September 24, 2020
Enterprise Management Associates (EMA), a leading IT and data management research and consulting firm, today announced it will host a webinar titled "Addressing the 8 Key Pain Points of Kubernetes Cluster Management," featuring Torsten Volk, managing research director of hybrid cloud, software defined infrastructure, and machine learning at EMA, and Pete Cruz, manager, product and technical marketing, at Red Hat.
AWS, Google Cloud, Azure, and every other public and private cloud come with their individual sets of strengths and weaknesses, but they have one thing in common: they make it easy and fast for enterprises to spin up Kubernetes clusters. Meanwhile, development and application teams make their own cloud choices, often on a per-project basis. This approach leads to a fragmented landscape of differently architected Kubernetes stacks, managed by separate teams and with separate toolchains for development, operations, and security.
Webinar attendees will learn a better approach organizations can take, as well as:

Discover the "negative side effects" resulting from the proliferation of Kubernetes clusters across clouds
Learn concrete steps to resolve each of these problems
Learn why Red Hat Advanced Cluster Management for Kubernetes received the EMA Top 3 award for Kubernetes Multi Cluster Management at scale
The webinar is Tuesday, October 6 at 12:00 p.m. Eastern. Registration is available at https://info.enterprisemanagement.com/8-key-pain-points-of-kubernetes-cluster-management-webinar-pr
About EMA
Founded in 1996, EMA is a leading industry analyst firm that specializes in providing deep insight across the full spectrum of IT and data management technologies. EMA analysts leverage a unique combination of practical experience, insight into industry best practices, and in-depth knowledge of current and planned vendor solutions to help their clients achieve their goals. Learn more about EMA research, analysis, and consulting services for enterprise line of business users, IT professionals and IT vendors at https://www.enterprisemanagement.com.