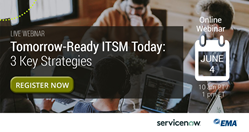 BOULDER, Colo. (PRWEB) May 27, 2020
Enterprise Management Associates (EMA), a leading IT and data management research and consulting firm, today announced it will host a webinar titled "Tomorrow-Ready ITSM Today: 3 Key Strategies," featuring Valerie O'Connell, research director of IT service and business management at EMA, and Bruce Randall, director of product marketing at ServiceNow.
In ancient times, February 2020, EMA research found that more than 50% of IT leaders surveyed were considering new ITSM platforms in the near future. That future arrived with a bang as IT organizations turbo-pivoted to deliver and support unprecedented levels and types of services to a global workforce suddenly working from home.
During this webinar, O'Connell and Randall will take a research-informed look at building ITSM initiatives that will support business at the speed of life. Three non-negotiable essentials for an ITSM function that will thrive long past this current crisis will be examined. Topics to be covered include:

Characteristics of ITSM platforms that either facilitate or complicate business innovation
Functionality and technologies that invigorate new initiatives
Realistic uses of AI and ML in support automation
Practical considerations of risk/reward, drivers, challenges, and adoption.
The webinar is Thursday, June 4 at 1:00 p.m. Eastern. Registration is available at https://info.enterprisemanagement.com/tomorrow-ready-itsm-today-webinar-pr
About EMA
Founded in 1996, EMA is a leading industry analyst firm that specializes in providing deep insight across the full spectrum of IT and data management technologies. EMA analysts leverage a unique combination of practical experience, insight into industry best practices and in-depth knowledge of current and planned vendor solutions to help their clients achieve their goals. Learn more about EMA research, analysis and consulting services for enterprise line of business users, IT professionals and IT vendors at http://www.enterprisemanagement.com.