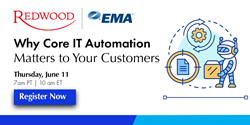 BOULDER, Colo. (PRWEB) June 02, 2020
Enterprise Management Associates (EMA), a leading IT and data management research and consulting firm, today announced it will host a webinar titled "Why Core IT Automation Matters to Your Customers," featuring Dan Twing, president and chief operating officer at EMA, and Neil Kinson, chief of staff at Redwood Software.
With recent changes in the global workforce, economy, and environment, the need for digital business transformation is now proven to be critical. Business and IT must prioritize focus to core areas of continuity and resiliency with optimized efficiency and value. Automation has again moved into the spotlight as the technology that can do the heavy lifting for this crucial transformational change. Workload automation (WLA), the most used form of automation for business, will be the foundation for operational IT renewal and digital transformation.
During this webinar, Twing and Kinson will discuss why organizations need to prioritize digital transformation and support these efforts with workload automation.
Specifically, Twing will explain how modern workload automation can work to unify IT processes for:

Improved IT-to business alignment
More efficient use of resources (including human resources)
Reduced complexity and simplified IT management
IT and business cost reduction
Kinson will show how RunMyJobs' purpose-built Software-as-a-Service (SaaS) delivery model offers organizations the speed, flexibility, and control to meet the critical needs of business and IT now and into the future.
The webinar is Thursday, June 11 at 10:00 a.m. Eastern. Registration is available at https://info.enterprisemanagement.com/why-core-it-automation-matters-to-your-customers-pr
About EMA
Founded in 1996, EMA is a leading industry analyst firm that specializes in providing deep insight across the full spectrum of IT and data management technologies. EMA analysts leverage a unique combination of practical experience, insight into industry best practices, and in-depth knowledge of current and planned vendor solutions to help their clients achieve their goals. Learn more about EMA research, analysis, and consulting services for enterprise line of business users, IT professionals and IT vendors at https://www.enterprisemanagement.com.