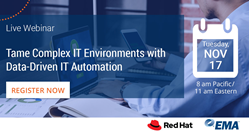 BOULDER, Colo. (PRWEB) November 05, 2020
Enterprise Management Associates (EMA), a leading IT and data management research and consulting firm, today announced it will host a webinar titled "Tame Complex IT Environments with Data-Driven IT Automation," featuring Dan Twing, President and COO of leading IT research firm EMA, and Alessandro Perilli, GM, Management Strategy at Red Hat.
Managing today's complex IT environments can be a daunting task. As these environments increase in scale, they inevitably become a collection of products from multiple vendors, using multiple operating systems, multiple clouds, and multiple networks. Effectively managing these environments is difficult without automation to address IT management complexity. Many automation options exist, but too many task-specific tools creates a new kind of complexity. EMA research has shown many in IT operations feel they would be better served by fewer, more broadly functioning automation tools. The more effective automation tools are highly integrated and data-driven.
During this webinar, Twing and Perilli will discuss how enterprises are addressing IT complexity with automation, as well as:

Where IT organizations are today in adopting a wide range of automation technologies, and what is most critical for the future.
The chief obstacles to making automation work, as well as broader strategies to unify automation across use cases.
How IT organizations are seeking to unify their automation strategies leveraging technologies such as IT process automation, workflow, and workload automation.
How and why AIOps and IT analytics are beginning to drive automation more pervasively.
The factors critical to enabling an effective automation strategy with specific focus on IT Process automation, alert-driven notification and automated event remediation, and security-related process automation.
The webinar is Tuesday, November 17 at 11:00 a.m. Eastern. Registration is available at https://info.enterprisemanagement.com/tame-complex-it-environments-with-data-driven-it-automation-webinar-pr
About EMA
Founded in 1996, EMA is a leading industry analyst firm that specializes in providing deep insight across the full spectrum of IT and data management technologies. EMA analysts leverage a unique combination of practical experience, insight into industry best practices, and in-depth knowledge of current and planned vendor solutions to help their clients achieve their goals. Learn more about EMA research, analysis, and consulting services for enterprise line of business users, IT professionals and IT vendors at https://www.enterprisemanagement.com.