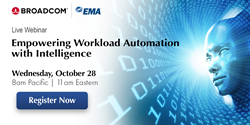 BOULDER, Colo. (PRWEB) October 20, 2020
Enterprise Management Associates (EMA), a leading IT and data management research and consulting firm, today announced it will host a webinar titled "Empowering Workload Automation with Intelligence," featuring Dan Twing, President and COO at EMA, and Jennifer Chisik, Head of Product for Automic Automation Intelligence at Broadcom.
Automation is critical to modern IT operations. Workload automation (WLA) software is one of the critical tools required to run an effective IT operation. Large enterprises often have multiple WLA solutions, which make it difficult to create a holistic, end-to-end view of workload health and outcomes, and to see and resolve problems as they develop. Adding intelligence to automation solutions with machine learning data from a wide range of sources and disparate tools empowers automation to predict outcomes, identify problems as they develop, and provide prescriptive suggestions to resolve developing problems quickly.
During this webinar, Twing and Chisik will discuss changes to the operating model for IT and benefits of automation intelligence, as well as:

Why organizations often have multiple WLA products in use
The benefits of dynamic SLA management
The benefits of modeling changes to speed development and digital transformation
The webinar is Wednesday, October 28 at 11:00 a.m. Eastern. Registration is available at https://info.enterprisemanagement.com/empowering-workload-automation-with-intelligence-webinar-pr.
About EMA
Founded in 1996, EMA is a leading industry analyst firm that specializes in providing deep insight across the full spectrum of IT and data management technologies. EMA analysts leverage a unique combination of practical experience, insight into industry best practices, and in-depth knowledge of current and planned vendor solutions to help their clients achieve their goals. Learn more about EMA research, analysis, and consulting services for enterprise line of business users, IT professionals and IT vendors at https://www.enterprisemanagement.com.