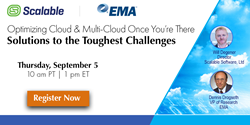 BOULDER, Colo. (PRWEB) August 27, 2019
Enterprise Management Associates (EMA), a leading IT and data management research and consulting firm, today announced it will host a webinar titled "Optimizing Cloud and Multi-Cloud Once You're There: Solutions to the Toughest Challenges," featuring Dennis Drogseth, vice president of research at EMA, and Will Degener, director of product manager at Scalable Software, Ltd.
In recent EMA research, 89% of survey respondents said they experienced one or more unexpected challenges with their organization's public cloud. From effective asset intelligence and accountability across hybrid IT and multi-cloud environments to organizational issues and shadow IT (to name a few challenges), there is no doubt that the move to the public cloud can be disruptive.
During this webinar, Drogseth and Degener will explain how enterprises can optimize their public cloud, multi-cloud, and hybrid cloud investments, as well as provide specific insights into:

Why 25% of IT organizations are switching public cloud providers and 17% are abandoning them
What technologies are used most frequently for keeping track of cloud sprawl and maximizing value
What organizational models best line up with cloud optimization and IT financial optimization more broadly
What metrics to consider in measuring success
What benefits to expect once you've made the right investments
The webinar is Thursday, September 5 at 1:00 p.m. Eastern. Registration is available at http://info.enterprisemanagement.com/optimizing-cloud-and-multi-cloud-webinar-pr
About EMA
Founded in 1996, EMA is a leading industry analyst firm that specializes in providing deep insight across the full spectrum of IT and data management technologies. EMA analysts leverage a unique combination of practical experience, insight into industry best practices, and in-depth knowledge of current and planned vendor solutions to help their clients achieve their goals. Learn more about EMA research, analysis, and consulting services for enterprise line of business users, IT professionals and IT vendors at http://www.enterprisemanagement.com.