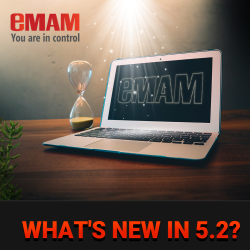 "It is exciting to offer streamlined cloud procurement and deployment"
NEW YORK (PRWEB) September 11, 2020
EMAM, Inc. developer of the widely used eMAM™ media asset management platform, announces Version 5.2 today, including improved integrations with Adobe® Creative Cloud® applications. eMAM worked with Adobe, Alibaba, Amazon, Drastic, Grass Valley, Qumolo, and dozens of technology partners to provide an expanded best-of-breed integrated ecosystem, now available on beta release.
The eMAM Cloud product line is now available for immediate deployment from AWS and Alibaba's Cloud Marketplaces and emamcloud.com, for both intelligent archive and collaborative production workflows. "It is exciting to offer streamlined cloud procurement and deployment with SaaS and PaaS options to meet current pandemic demands for remote staff and contingency options, featuring compelling public cloud tools and features," commented David Miller, President of EMAM, Inc. eMAM works with all of the leading cloud systems through VM and hybrid deployments, working with local infrastructure.
Editing and design tools have been augmented as well. Professionals can take advantage of improved integrated panels in Adobe Premiere® Pro, After Effects®, Illustrator®, Photoshop®, and InDesign that communicate more efficiently with eMAM's system. Especially important are expanded options for remote and cloud editing, including LucidLink streaming, cloud workstations, Teradici, Qumolo, mezzanine editing, and secure proxy streaming.
"Remote collaboration has never been more important than it is today," said Sue Skidmore, head of partner relations for Adobe video. "Making sure creative professionals have streamlined workflows for Adobe Creative Cloud apps, regardless of where they are working, is top of mind for us. We are delighted that EMAM is supporting the cloud ecosystem."
New integrations with Drastic's Net-X Code and Grass Valley's Morpheus give organizations cost effective and powerful options for live and broadcast workflows.
eMAM systems are available from leading system integrators worldwide as listed at emamsolutions.com/partners. eMAM Cloud is available in the AWS and Alibaba Marketplaces and emamcloud.com.
About EMAM
EMAM, Inc. is the publisher of the eMAM ™ workflow system. In development since 2006, it provides a series of purchased systems (eMAM Vault, eMAM Publish, eMAM Workgroup, and eMAM Enterprise) , software as a service systems (eMAM Cloud Service-Preserve and eMAM Cloud Service-Create) and platform as a service offerings (eMAM Cloud Platform-Archive and eMAM Cloud Platform-Produce). It is a privately held company providing media asset management and workflow management solutions for broadcast, media, government, and corporate clients worldwide in local, hybrid, and cloud environments.
For more information, please contact David Miller at 888.808.3856 or email sales@emamsolutions.com .