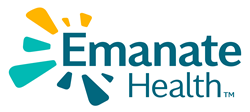 "Securing the safety of all visitors, patients and staff will always be our top priority," said Emanate Health CEO Robert H. Curry. Our new visitor policy will help to boost the emotional health of our patients, which will also be good for their physical health and wellness."
COVINA, Calif. (PRWEB) October 14, 2020
Emanate Health, the largest health care system in the San Gabriel Valley, has implemented a new visitor policy that now allows a single, designated visitor to meet with a hospital patient during the length of their hospital stay. It's the first time since the beginning of the COVID-19 pandemic in March that visitors have the opportunity to see a loved one while they're being treated at Emanate Health hospitals.
Emanate Health established the new visitor policy in accordance with the California Department of Public Health, the Los Angeles County Department of Public Health and infection control best practices. Click here to review the new visitor policy for more specific information. Visitors will receive a written Visitor Policy brochure when they arrive.
"Securing the safety of all visitors, patients and staff will always be our top priority," said Emanate Health CEO Robert H. Curry. "We know that the pandemic has been a challenge for people wanting to see family or friends in our hospitals. Our new visitor policy will help to boost the emotional health of our patients, which will also be good for their physical health and wellness."
The new Emanate Health Visitor Policy, which took effect in early October, will allow a designated guest to safely visit a patient for a maximum of 30 minutes each day. The patient will select one person to be their designated guest during the extent of their hospital stay. Visitors—who must present identification and be at least 18 years old—will also be required to complete a temperature screening and properly wear a face mask throughout their stay. Visitor hours are between 11 a.m. and 8 p.m.
Patients with COVID-19 or under investigation for potential exposure to the virus may not receive visitors. Visitors who are under quarantine or have tested positive for the virus within the last 14 days may not enter the hospitals. Visitors will not be allowed in the Emergency Department. The new policy does not apply to the Family Birth & Newborn Center. Exceptions apply to end-of-life care.