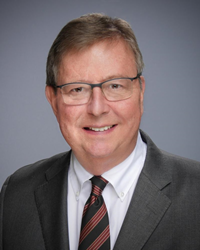 Curry was one of five finalists for the award. Other finalists represented Adventist Health Glendale, UCLA Health, City of Hope and Keck Medicine of USC.
COVINA, Calif. (PRWEB) September 20, 2020
Emanate Health CEO Robert H. Curry, who oversees the largest the largest health care system in the San Gabriel Valley, has been named a finalist for "Hospital CEO or President of the Year" for the annual Health Care Panel and Awards.
"I feel privileged to be nominated with such an impressive group of Los Angeles County hospital leaders," said Curry. "But this nomination says more about the outstanding doctors, nurses, staff members and volunteers who serve our patients every day than it does about me. Our staff is the backbone of our organization and they work hard to address the health care needs of our service area and bring wellness to our communities, especially during a global pandemic."
Curry, who has served in his current role since November 2008, was one of five finalists for the award. Other finalists included Alice Issai, President, Adventist Health Glendale; Johnese Spisso, President, UCLA Health, CEO, UCLA Hospital System, Associate Vice Chancellor, UCLA Health Sciences; Robert Stone, President and CEO, City of Hope and Rod Hanners, Interim CEO, Keck Medicine of USC
"Rob's leadership has been invaluable in guiding Emanate Health during the pandemic to ensure our financial stability and preserve staff positions for our dedicated team of hospital heroes, who are bringing our communities back to good health in body, mind and spirit," said Gary Mathewson, Chair, Emanate Health Board of Directors. "More importantly, Rob has implemented high standards of cleanliness and safety at our hospitals to protect our team of physicians, nurses and staff, and inspire confidence in our patients who are safely returning for treatment and no longer delaying their medical care."
Curry was recognized by the Business Journal as one of the 500 most influential community and business leaders in Los Angeles County in 2020. He serves as the Board Chair for Private Essential Access Community Hospitals (PEACH) - a network of private, core safety net hospitals in California that care for a disproportionate share of low-income, medically vulnerable patients, among other industry and professional affiliations.
About Emanate Health
Emanate Health is the largest nonprofit health care provider serving the one million residents of the San Gabriel Valley in California. The system provides specialized care in Behavioral Health, Cancer, Cardiovascular, Emergency, Neuroscience and Stroke, Orthopedics, Sports Medicine, and Women's Health. Its family of hospitals and hospice include Emanate Health Inter-Community in Covina, Emanate Health Queen of the Valley in West Covina, Emanate Health Foothill Presbyterian in Glendora, Emanate Health Hospice and Home Care in West Covina, as well as other clinics throughout the region. Year after year the health care system has been voted "Best Hospital" and "Best Place to Work" and providers are consistently among the "Top Doctors" in Los Angeles County and hospitals are graded A for Patient Safety by The Leapfrog Group. Visit emanatehealth.org, our Newsroom and connect with us on LinkedIn │Twitter │ Instagram │ Facebook.