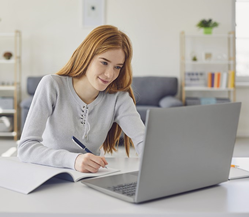 What if Universities could leverage computer labs to give students remote anywhere access without the need to purchase new computers or run virtual machines in the cloud?
HOBOKEN, N.J. (PRWEB) September 02, 2020
A NYC area work from home technology consultant and Cloud services provider presents a remote access solution that leverages existing University computer labs in a new article on the eMazzanti Technologies website. The informative article explains how a University greatly expanded its virtual environment for students without a major investment in hardware or cloud resources.
The author explains how eMazzanti Access, a unified workspace solution, offers secure and audited access to University files and applications organized by class and discipline. The solution connects to over 1,200 PCs and 300 MACs to make them available upon request to students remotely.
"What if Universities could leverage computer labs to give students remote anywhere access without the need to purchase new computers or run virtual machines in the cloud?" asked Jennifer Mazzanti, CEO, eMazzanti Technologies.
Below are a few excerpts from the article, "eMazzanti Delivers Secure Anywhere Access to University Computer Lab for Remote Students."
University Going Virtual on a Budget
"A major Midwestern University plans to operate virtually in the fall. With COVID, administrators are looking at how to provide students with virtualized systems to achieve new normal productivity. They want to bring their labs online to provide students remote anywhere access to what used to be in person reserved systems."
Variable by Class
"University leaders want a virtual environment where they can create multiple virtual templates for each discipline/class (Around 15). One issue is licensing. They want to save costs by monitoring concurrent license usage."
Unified Workspace for Legacy and Cloud Apps
"eMazzanti Access is a unified workspace that offers a highly secure and audited access to organization files and legacy, web and SaaS applications in a browser-based workspace, accessible via any browser, on any device. It offers a very intuitive user interface, a mobile app for tablets and expanded administration tools for greater control and auditing."
Cost Minimized
"This innovative eMazzanti Access setup incurs limited infrastructure and licensing costs. For example, with 1,200 PCs, eMazzanti Access is deployed on 4 virtual machines (8vCPU and 8Gb). There is also no Microsoft Remote Desktop Services (RDS) licensing applicable with no server access."
Simplified Anywhere Access
eMazzanti Access delivers IT services securely and efficiently. Users work and collaborate from an online unified workspace and can access any application, anywhere. No agent installation is required on personal or organization devices. Users only need an HTML5 browser-capable device and an internet connection.
As in the University example above, eMazzanti Access is also a safe and simple way to implement BYOD. It is SSL-encrypted, offers two-factor authentication and is auditable. All IT assets remain centrally managed and secure, and no agent installation is required on personal or corporate devices.
Have you read?
How to Make Your IT Effective in the New Normal
How to Change Microsoft Teams Background
About eMazzanti Technologies
eMazzanti's team of trained, certified IT experts rapidly deliver increased revenue growth, data security and productivity for clients ranging from law firms to high-end global retailers, providing advanced retail and payment technology, cloud and mobile solutions, multi-site implementations, 24×7 outsourced network management, remote monitoring and support.
eMazzanti has made the Inc. 5000 list 9X, including eight consecutive years, is a 4X Microsoft Partner of the Year, the #1 ranked NYC area MSP and NJ Business of the Year! Contact: 1-866-362-9926, info@emazzanti.net or http://www.emazzanti.net Twitter: @emazzanti Facebook: Facebook.com/emazzantitechnologies.