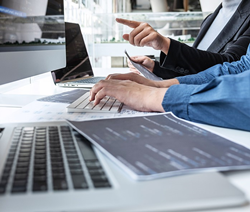 Remote work expands the attack surface and cyber-criminals grow increasingly sophisticated,. Fortunately, managed services improve cyber security in several critical areas.
HOBOKEN, N.J. (PRWEB) October 01, 2020
A NYC area IT consultant discusses four ways that using a managed services provider (MSP) improve business cyber security in a new article on the eMazzanti Technologies website. The informative article first reviews the "perfect storm" of 2020 cyber security threats.
The author then discusses the cyber security skills shortage and the advantage of working with an MSP to access them. He cites proactive, 24/7 monitoring and vulnerability identification and remediation as services that strengthen cyber security. He concludes by describing how user education overcomes the weakest link in data security.
"Remote work expands the attack surface and cyber-criminals grow increasingly sophisticated," stated Almi Dumi, CISO, eMazzanti Technologies. "Fortunately, managed services improve cyber security in several critical areas."
Below are a few excerpts from the article, "4 Ways Managed Services Improve Cyber Security."
Expertise at Your Fingertips
"In late 2019, (ISC)2, a major nonprofit organization of cyber security professionals, conducted a study of the cyber security workforce. The study showed that the skills gap continues to widen. In fact, to adequately meet the data security needs of American organizations, the cyber security workforce would need to increase by 62 percent."
Proactive, 24/7 Monitoring
"Another significant way that managed services improve cyber security involves system monitoring. A reputable MSP will provide monitoring not just during business hours, but 24 hours a day, seven days a week. Using machine learning, for instance, your MSP can identify unusual activity and proactively address issues even before a breach occurs."
Vulnerability Identification and Remediation
"The MSP typically conducts risk assessments to determine the state of your organization's cyber security and make recommendations. In the process, they will likely conduct vulnerability scans and penetration testing."
Managed Services Improve Cyber Security
For nearly twenty years, eMazzanti has helped organizations of all sizes secure their critical data assets. Proactive network monitoring, email security and comprehensive threat detection are just a few of the ways eMazzanti's award-winning managed services improve cyber security.
Customizable security offerings also include services such as dark web monitoring, patch management, web filtering and predictive security. eMazzanti's security professionals conduct a risk assessment and work closely with business leaders to implement a comprehensive cyber security strategy that meets their specific needs and budget.
Have you read?
How to Make Your IT Effective in the New Normal
5 Ways to Get More from Your Managed Services Partnership
About eMazzanti Technologies
eMazzanti's team of trained, certified IT experts rapidly deliver increased revenue growth, data security and productivity for clients ranging from law firms to high-end global retailers, providing advanced retail and payment technology, cloud and mobile solutions, multi-site implementations, 24×7 outsourced network management, remote monitoring and support.
eMazzanti has made the Inc. 5000 list 9X, including eight consecutive years, is a 4X Microsoft Partner of the Year, the #1 ranked NYC area MSP and NJ Business of the Year! Contact: 1-866-362-9926, info@emazzanti.net or http://www.emazzanti.net Twitter: @emazzanti Facebook: Facebook.com/emazzantitechnologies.