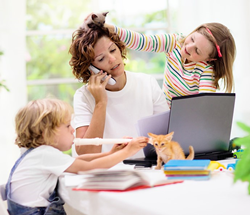 An effective endpoint security solution uses a multi-faceted approach to detect and minimize threats and control system access.
HOBOKEN, N.J. (PRWEB) April 08, 2020
A NYC area IT security consultant and managed services provider (MSP) discusses the increased work-from-home cyber security attack surface and the explosion in privacy regulations in a new article on the eMazzanti Technologies website. The informative article lists five endpoint security best practices that concerned organizations should implement in response.
Investing in mobile device management, application control and strengthened access management head the list of endpoint security best practices recommended. The article concludes by acknowledging that navigating security challenges with a vastly increased security perimeter is a daunting task best performed with expert assistance.
"An effective endpoint security solution uses a multi-faceted approach to detect and minimize threats and control system access," stated Almi Dumi, CISO, eMazzanti Technologies.
Below are a few excerpts from the article, "5 Endpoint Security Best Practices When Remote Work Takes Center Stage."
Mobile Workforce Broadens Attack Surface
"In recent years, remote work has become the norm. Even before COVID-19 sent the bulk of the workforce home, end users regularly conducted business via mobile device. As a result, the network perimeter has largely disappeared. Consequently, traditional centralized security no longer provides adequate protection for the mobile workforce on its own."
1. Invest in Mobile Device Management
"With so many devices connecting to the network, IT departments turn to mobile device management (MDM) systems to manage device-level security. MDM determines which devices can access the network and enforces policies. It manages encryption, monitors for security and regulatory compliance and provides for remote wiping of a lost or stolen device."
2. Implement Application Control
"With application control, organizations gain visibility into and control over the applications in use across the enterprise. They can whitelist trusted applications and/or blacklist applications that may prove a risk to the organization. This not only helps keep the system secure, but it also facilitates data discovery for purposes of regulatory compliance."
More Endpoint Security Best Practices >>
Expert Assistance Available
Businesses of all sizes have moved into a mobile-first environment without much preparation. Navigating security challenges with a vastly increased security perimeter can prove a daunting task. Business leaders may contact eMazzanti Technologies today to prioritize and implement endpoint security best practices for their organization.
Have you read?
Protect Your Business from COVID-19 Phishing Scams
Working Remotely, What You Need to Know
About eMazzanti Technologies
eMazzanti's team of trained, certified IT experts rapidly deliver increased revenue growth, data security and productivity for clients ranging from law firms to high-end global retailers, providing advanced retail and payment technology, cloud and mobile solutions, multi-site implementations, 24×7 outsourced network management, remote monitoring and support.
eMazzanti has made the Inc. 5000 list eight consecutive years, is a 4X Microsoft Partner of the Year, the #1 ranked NYC area MSP and NJ Business of the Year! Contact: 1-866-362-9926, info@emazzanti.net or http://www.emazzanti.net Twitter: @emazzanti Facebook: Facebook.com/emazzantitechnologies.