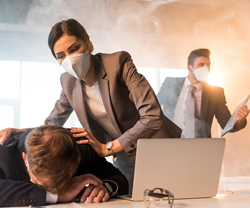 Now, more than ever, solutions such as Microsoft Teams are essential in maintaining productivity through remote collaboration.
HOBOKEN, N.J. (PRWEB) March 05, 2020
A NYC area IT consultant and managed services provider (MSP) discusses the current global fears about coronavirus (COVID-19) and shares recommended strategies for businesses in a new article on the eMazzanti Technologies website. The informative article includes tips from the Centers for Disease Control (CDC) and Harvard Medical School on preventing infection.
The author goes on to explain remote work technology options such as Microsoft Teams and Office 365. These products allow employees to work securely from home with powerful document sharing, chat and video conferencing features.
"Now, more than ever, solutions such as Microsoft Teams are essential in maintaining productivity through remote collaboration," stated Almi Dumi, CISO, eMazzanti Technologies.
Below are a few excerpts from the article, "Remote Collaboration: Connecting Teams When Circumstances Force Work-at-Home."
Coronavirus Provides Preparedness Motivation
"Current global fears about coronavirus (COVID-19) have set stock markets reeling and prompted widespread panic. In the office, an employee with a persistent cough prompts worry among coworkers. Parents find themselves unexpectedly working at home when schools or daycares close. And employees cancel work trips to high risk areas."
"In the United States, the Centers for Disease Control (CDC) recently published recommended strategies for businesses in light of the crisis. These recommendations include:

Actively encourage sick employees to stay home.
Develop an infectious disease response plan that includes policies for telecommuting.
Plan for possible impacts including employees who must stay at home due to illness, sick loved ones or school and daycare closures.
Minimize exposure between employees when public health officials recommend it."
Powering Remote Collaboration with Microsoft Teams
"Regardless of distance, Microsoft Teams provides the tools you need to bring colleagues into the same virtual room. When canceled flights keeps team members on separate continents, or quarantine forces work-at-home, Teams comes to the rescue."
"With real-time collaboration, multiple employees can work together on a single Word document, PowerPoint presentation or Excel spreadsheet. They can conduct a group chat without leaving the open document. Then, with the touch of a button, they can move directly from the group chat to a video conference."
Preparedness Specialists
eMazzanti opened for business in August 2001 in Hoboken, New Jersey. Less than a month later, the fledgling business brought its customers through the crisis of 9/11. That commitment to providing business continuity, networking and security solutions has continued for nearly two decades. Business leaders should contact eMazzanti's team of remote collaboration experts to prepare for coronavirus and future work-at-home emergencies.
Have you read?
Human vulnerability identified as weak link in cyberattacks
Focusing on the Future of Authentication
About eMazzanti Technologies
eMazzanti's team of trained, certified IT experts rapidly deliver increased revenue growth, data security and productivity for clients ranging from law firms to high-end global retailers, providing advanced retail and payment technology, cloud and mobile solutions, multi-site implementations, 24×7 outsourced network management, remote monitoring and support.
eMazzanti has made the Inc. 5000 list eight consecutive years, is a 4X Microsoft Partner of the Year, the #1 ranked NYC area MSP and NJ Business of the Year! Contact: 1-866-362-9926, info@emazzanti.net or http://www.emazzanti.net Twitter: @emazzanti Facebook: Facebook.com/emazzantitechnologies.