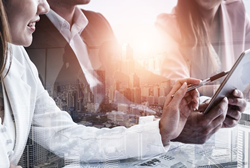 The future of authentication must combine more effective security with improved user experience. No single technology will provide the silver bullet.
HOBOKEN, N.J. (PRWEB) February 26, 2020
A NYC area IT security consultant and managed services provider (MSP) discusses the trade-offs of multi-factor authentication and what must follow in a new article on the eMazzanti Technologies website. The informative article explains that future advancements will likely involve strengthening existing verification methods in combination with emerging technology to reduce risk.
The author goes on to explain risk-based authentication and strengthening biometrics with anti-spoofing measures. He then discusses behavior-based authentication and how that might create a frictionless, seamless user experience with authentication occurring behind the scenes.
"The future of authentication must combine more effective security with improved user experience," stated Almi Dumi, CISO, eMazzanti Technologies. "No single technology will provide the silver bullet."
Below are a few excerpts from the article, "Focusing on the Future of Authentication."
Risk-based Authentication
"One option already in use involves adjusting the authentication requirements based on risk. For instance, an employee who accesses a given network regularly from the same device represents a low risk. In that case, the system might require just single-factor authentication, allowing the user access with minimal disruption."
Behavior-based Authentication
"In the ideal future of authentication, verification will occur behind the scenes, almost without conscious user involvement. The benefits of this "frictionless authentication" include a seamless user experience. Additionally, reduced user involvement in the authentication process means reduced risk due to human vulnerability."
"For example, with behavior-based authentication, the system weighs multiple factors to determine the level of access. Unusual access attempts or significant changes in bandwidth use would trigger an alarm, for instance. The system may also factor in keystroke dynamics, mouse movements and other biometric patterns."
Embrace the Future of Authentication
Organizations need to ensure the security of vital intellectual assets and customer information. At the same time, they seek to improve user experience and support productivity. With so many authentication options available, choosing the right approach can prove challenging.
The cyber security experts at eMazzanti understand the need to balance security with usability and budgetary constraints. They can help organizations choose and implement the authentication methods that best meet their business needs.
Have you read?
eMazzanti to Repeat on NJBIZ Cyber Security Panel
eMazzanti Technologies Recognized on CRN's 2020 MSP500 List
About eMazzanti Technologies
eMazzanti's team of trained, certified IT experts rapidly deliver increased revenue growth, data security and productivity for clients ranging from law firms to high-end global retailers, providing advanced retail and payment technology, cloud and mobile solutions, multi-site implementations, 24×7 outsourced network management, remote monitoring and support.
eMazzanti has made the Inc. 5000 list eight consecutive years, is a 4X Microsoft Partner of the Year, the #1 ranked NYC area MSP and NJ Business of the Year! Contact: 1-866-362-9926, info@emazzanti.net or http://www.emazzanti.net Twitter: @emazzanti Facebook: Facebook.com/emazzantitechnologies.