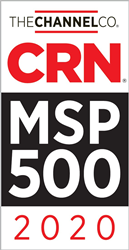 MSPs with public, private and hybrid cloud expertise are well-positioned to help businesses implement a complete cloud solution.
HOBOKEN, N.J. (PRWEB) February 18, 2020
eMazzanti Technologies, a NYC area managed services provider, announced today that CRN®, a brand of The Channel Company, has named eMazzanti Technologies to its 2020 Managed Service Provider (MSP) 500 list in the Pioneer 250 category. This popular list identifies North American solution providers that deliver operational efficiencies, IT system improvements, and a higher rate of return on investments for their customers. These accomplished MSPs work tirelessly to guide their customers and create solutions for complex IT issues
In today's fast-paced business environments, MSPs play an important role in helping companies leverage new technologies without straining their budgets or losing focus on their core business. CRN's MSP 500 list shines a light on the most forward-thinking and innovative of these key organizations.
To meet the evolving technology needs of customers nationwide and internationally, eMazzanti provides a array of cloud services in addition to its managed IT services. Offerings include Azure-based infrastructure as a service (IaaS), Hyper V administration, disaster recovery as a service, cloud storage solutions and support for SMB and enterprise customers through a cloud MSP business model. These proven cloud offerings have expanded the size of eMazzanti's market which has responded enthusiastically.
"Businesses of all sizes are relying more on the cloud to operate critical applications," stated Almi Dumi, CISO, eMazzanti Technologies. "MSPs with public, private and hybrid cloud expertise are well-positioned to help businesses implement a complete solution."
The list is divided into three categories, the MSP Pioneer 250, the MSP Elite 150 and the Managed Security 100. The MSP Pioneer 250 category recognizes companies with business models weighted toward managed services and largely focused on the SMB market. eMazzanti has appeared on six previous CRN lists recongnizing the company for customer focus and fast growth.
"MSPs are the critical bridge for customers looking to assess, implement and migrate their IT and cloud solutions to drive efficiencies, lower costs and secure your environment," said Bob Skelley, CEO of The Channel Company. "On behalf of our team at The Channel Company, I want to congratulate the accomplished companies on CRN's 2020 MSP 500 list and thank them for their commitment to finding innovative solutions that move the IT channel forward."
Related resources:
eMazzanti Technologies Seeks Fast Company's 2020 World Changing Ideas Award
5 Ways a Managed Services Provider (MSP) Promotes Revenue Growth in 2020
About eMazzanti Technologies
eMazzanti's team of trained, certified IT experts rapidly deliver increased revenue growth, data security and productivity for clients ranging from law firms to high-end global retailers, providing advanced retail and payment technology, cloud and mobile solutions, multi-site implementations, 24×7 outsourced network management, remote monitoring and support.
eMazzanti has made the Inc. 5000 list eight consecutive years, is a 4X Microsoft Partner of the Year, the #1 ranked NYC area MSP and NJ Business of the Year! Contact: 1-866-362-9926, info@emazzanti.net or http://www.emazzanti.net Twitter: @emazzanti Facebook: Facebook.com/emazzantitechnologies.