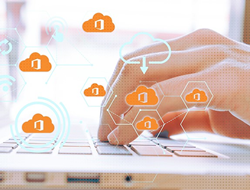 Despite several misconceptions to the contrary, backup is just as important for Office 365 as for on-premises Microsoft applications.
HOBOKEN, N.J. (PRWEB) August 26, 2020
A NYC area work from home technology consultant and Cloud services provider presents risks to Office 365 data and three steps to protect it in a new article on the eMazzanti Technologies website. The informative article explains how to protect all Office 365 data.
After explaining the risks to Office 365 data, including ransomware and accidental and intentional deletion, the author details the steps necessary to prevent data loss. Modern cyber security technology, employee education and effective third-party backups form the core of the recommended protection strategy.
"Despite several misconceptions to the contrary, backup is just as important for Office 365 as for on-premises Microsoft applications," stated Jennifer Mazzanti, CEO, eMazzanti Technologies.
Below are a few excerpts from the article, "How to Protect Your Office 365 Data."
Modern Cyber Security Technology
"Antivirus protection, data loss prevention and cloud-based cyber security technologies form the first leg of your protection strategy. Since viruses and malware easily spread from local machines to data in the cloud, effective IT security technology must be implemented."
"Criminals constantly modify ransomware to avoid detection. So, take the necessary steps to prevent ransomware damage and keep cyber security technology, such as firewalls and anti-virus software, up to date. Updates to cloud-based cyber security solutions occur automatically, simplifying management."
Effective Backups
"Automatic and verified backup solutions provide the best protection against accidental or intentional file deletion, ransomware, operator errors, and data corruption. Going beyond Microsoft's built-in protection, third-party backup solutions enable quick and accurate restores and most meet data privacy and data location requirements for all Office 365 data."
"Implementing an Office 365 backup solution also reduces retention costs. If your organization must retain user data for a specified time, maintaining former employees' Office 365 licenses increases costs. An effective backup solution allows organizations to retain their email and files for much less than the continued Microsoft licensing costs."
Business Continuity Services from eMazzanti
Planning the timing, method and storage of backups requires time and resources. eMazzanti provides comprehensive business continuity planning services that include enhanced backup, storage and recovery options among other innovative solutions.
For example, eMazzanti teamed up with Microsoft to provide an affordable Disaster Recovery as a Service (DRaaS) solution that incorporates Microsoft's Azure Site Recovery (ASR). The solution automates the replication and recovery process and erases the need for businesses to secure an out-of-state disaster recovery location.
Have you read?
How to Make Your IT Effective in the New Normal
How to Change Microsoft Teams Background
About eMazzanti Technologies
eMazzanti's team of trained, certified IT experts rapidly deliver increased revenue growth, data security and productivity for clients ranging from law firms to high-end global retailers, providing advanced retail and payment technology, cloud and mobile solutions, multi-site implementations, 24×7 outsourced network management, remote monitoring and support.
eMazzanti has made the Inc. 5000 list 9X, including eight consecutive years, is a 4X Microsoft Partner of the Year, the #1 ranked NYC area MSP and NJ Business of the Year! Contact: 1-866-362-9926, info@emazzanti.net or http://www.emazzanti.net Twitter: @emazzanti Facebook: Facebook.com/emazzantitechnologies.