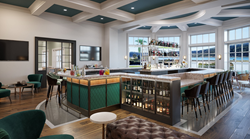 CARLSBAD, Calif. (PRWEB) February 04, 2021
Park Hyatt Aviara Resort, Golf Club & Spa announces the name of its new signature restaurant created in collaboration with Chef Richard Blais. Ember & Rye is set to open its doors in March 2021 as the final phase of the Forbes Five Star property's recent $50 million renovation. The restaurant perfectly complements Park Hyatt Aviara's newly reimagined luxury resort, designed to be both refined and relaxed with an understated elegance along the coveted Southern California coast.
"Ember & Rye is the type of restaurant I personally want to eat at every day. It is the embodiment of my cooking style, focusing on elevating classic dishes that many people may already be familiar with, while creating a distinct, new style and flavor in a fun, playful way," said Richard Blais. "Combining Ember & Rye's menu concept and our engaging culinary team with such a lively space—that I define as a 'not-your-parents' country club' meets modern steakhouse—and you have a unique atmosphere that will bring guests coming back again."
Ember & Rye is situated along the award-winning Aviara Golf Club and overlooks the surrounding Batiquitos Lagoon. Grizform Design Architects was tapped for the restaurant design, ushering in a new, modern space that revitalized the traditional clubhouse experience. Interiors are flooded with natural light and boast a vibrant color palette with subtle touches of brass and black accents throughout, resulting in a modern-meets-vintage aesthetic.
Upon arrival, guests are greeted by a lively bar and interactive Chef's station with a rotating selection of enticing snacks featuring daily favorites as part of featured gourmet smorgasbords and bountiful charcuterie platters. A well-stocked Whiskey Library serves exclusive, small batch rye whiskeys and rare Kentucky bourbons in vintage glassware.
The restaurant features two dining rooms – one with an oversized, double-sided banquette and wrap-around, full-length windows to take in the iconic views just beyond. Glass barn doors lead to a second dining room with access to an outdoor dining terrace. A newly enclosed semi-private dining room can accommodate up to 55 guests.
Outside, the terrace's thoughtfully designed seating arrangements affords all groups the opportunity to soak in coastal California's beautiful weather. The space features two custom bocce ball courts and miniature golf holes. The outdoor grilling station, utilizing California harvested energy sources, provides inspiration for the space's style and flavor. As evening settles in on the picturesque patio, firepits are lit, and the soft glow of golden embers from the grill create a magical al fresco dining experience.
A classic California menu infuses innovation with creativity providing vintage steaks, fresh seafood and seasonal vegetables prepared using a combination of old-fashioned cooking techniques, unconventional flavor profiles and contemporary culinary philosophies. Guests will feast on grilled entrees such as rare cuts of Japanese A-5 beef, and Barbecued Oysters "Flambadou" served with Bone Marrow Butter and Pickled Chili. A vibrant selection of daily vegetable sides will accompany the entrees that will include a sampling of Artichoke Creamed Spinach, Crispy Onion "Rosette," and Baked Celery Root. Ember & Rye will also introduce exclusive wines from prominent California winemakers, coveted caviar, as well as desserts created by the resort's Executive Pastry Chef, Christophe Rull.
Paying homage to age-old traditions often seen in the great steakhouses and storied California eateries of decades gone by, Ember & Rye will resurrect elements of those nostalgic, vintage touches including personalized tableside presentations of house-made sauces and sides to accompany featured steak entrees, catch-of-the-day fish specials and understated gourmet dishes featuring the finest seasonal ingredients. Not your average tableside peppercorn steak sauce, servers will offer guests unexpected sauce pairings with their chosen entrees such as Szechuan au Poivre sauce, Jalapeño Salsa Verde and a signature steak sauce created and bottled by Chef Richard Blais—all of which adds a memorable touch to a quintessential culinary experience set against the beauty of coastal California.
Perhaps what makes Ember & Rye most compelling is its unwavering commitment to the restaurant's core mission centered around sourcing ingredients from the region's preeminent farmers, foragers and fishermen whenever possible, including Chino Farms, Saraspe Family Seafood, Flannery Beef, Girl and Dug Farms and Weiser Family Farms. Once open, the restaurant will actively seek out additional unique regional purveyors and local artisans to shine a light on their work as part of its commitment to sustainability, sourcing locally and acting responsibly when procuring food to minimize food waste in the San Diego area.
The resort's $50+ million renovation includes redesigned guestrooms and suites; a reimagined lobby entrance capitalizing on the breathtaking ocean views; two new pool experiences, including an adult pool with private luxury cabanas and a family pool with a waterslide tower and tide pool splashpad; an interactive Topgolf Swing Suite; 80,000 square feet of upgraded indoor and outdoor event spaces; and four other distinct lobby and restaurant concepts.
Guided by its purpose of care, Hyatt's multi-layered Global Care & Cleanliness Commitment further enhances its operational guidance and resources around colleague and guest safety and peace of mind. More information on Hyatt's commitment can be found here: hyatt.com/care-and-cleanliness.
For renderings of Ember & Rye, please click here. For more information about Park Hyatt Aviara or to book a reservation, please visit the hotel's website or call 760-448-1234.
Connect with Ember & Rye and Park Hyatt Aviara:
Instagram: http://www.instagram.com/emberandryesd
Instagram: http://www.instagram.com/parkhyattaviara
Twitter: http://www.twitter.com/ParkHyattAviara
Facebook: http://www.facebook.com/ParkHyattAviara
About Richard Blais:
Widely recognized as the first winner of Bravo's Top Chef All-Stars, Richard Blais is a successful chef, restaurateur, cookbook author and television personality. After graduating from the Culinary Institute of America, he went on to train at The French Laundry, Daniel, Chez Panisse, and el Bulli. Blais currently owns and operates Trail Blais, a forward-thinking culinary consulting company that has consulted on, designed, and operated popular eateries across the country. Trail Blais also advises national brands on menu creativity, ideation and employee training sessions. He is a recurring judge on Top Chef and regularly appears on several other top culinary competitions and shows, in addition to hosting his popular podcasts, Food Court and Starving for Attention.
About Park Hyatt Aviara Resort, Golf Club & Spa:
Park Hyatt Aviara is an iconic Southern California resort, situated along the Pacific on more than 200 lush acres adjacent to the Batiquitos Lagoon, a natural wetland preserve. The Forbes Five-Star and AAA Five Diamond resort offers a world-class wellbeing experience, several distinct dining venues including Ember & Rye set to open in early 2021 in collaboration with acclaimed Chef Richard Blais, adult and family pool experiences, two Topgolf Swing Suites, state-of-the-art tennis facilities, and California's only coastal designed Arnold Palmer signature golf course, Aviara Golf Club, home of the LPGA Kia Classic professional golf tournament. For more information, please visit: https://www.hyatt.com/en-US/hotel/california/park-hyatt-aviara-resort/sanpa. Connect with Park Hyatt Aviara on social media via Instagram, Twitter and/or Facebook.
About Park Hyatt:
Park Hyatt hotels provide discerning, global travelers with a refined home-away-from-home. Guests of Park Hyatt hotels receive quietly confident and personalized service in an enriching environment. Located in several of the world's premier destinations, each Park Hyatt hotel is custom designed to combine sophistication with understated luxury. Park Hyatt hotels feature well-appointed guestrooms, world-renowned artwork and design, rare and immersive culinary experiences, and signature restaurants featuring award-winning chefs. There are currently 41 Park Hyatt hotels in the following locations: Abu Dhabi, Bangkok, Beaver Creek, Beijing, Buenos Aires, Busan, Canberra, Changbaishan, Carlsbad, Chennai, Chicago, Dubai, Guangzhou, Hamburg, Hangzhou, Hyderabad, Istanbul, Jeddah, Maldives, Mallorca, Melbourne, Mendoza, Milan, Moscow, New York, Ningbo, Paris, Saigon, Sanya, Seoul, Shanghai, Shenzhen, Siem Reap, St. Kitts, Sydney, Tokyo, Toronto (under renovation), Vienna, Washington, D.C., Zanzibar, and Zurich. For more information, please visit parkhyatt.com. Follow @ParkHyatt on Facebook,Twitter and Instagram, and tag photos with #LuxuryIsPersonal.
Forward-Looking Statements
Forward-Looking Statements in this press release, which are not historical facts, are forward-looking statements within the meaning of the Private Securities Litigation Reform Act of 1995. Our actual results, performance or achievements may differ materially from those expressed or implied by these forward-looking statements. In some cases, you can identify forward-looking statements by the use of words such as "may," "could," "expect," "intend," "plan," "seek," "anticipate," "believe," "estimate," "predict," "potential," "continue," "likely," "will," "would" and variations of these terms and similar expressions, or the negative of these terms or similar expressions. Such forward-looking statements are necessarily based upon estimates and assumptions that, while considered reasonable by us and our management, are inherently uncertain. Factors that may cause actual results to differ materially from current expectations include, but are not limited to, the short- and longer-term effects of the COVID-19 pandemic, including on the demand for travel, transient and group business, and levels of consumer confidence; actions that governments, businesses, and individuals take in response to the COVID-19 pandemic or any future resurgence, including limiting or banning travel; the impact of the COVID-19 pandemic, and actions taken in response to the COVID-19 pandemic or any future resurgence, on global and regional economies, travel, and economic activity, including the duration and magnitude of its impact on unemployment rates and consumer discretionary spending; the ability of third-party owners, franchisees or hospitality venture partners to successfully navigate the impacts of the COVID-19 pandemic; the pace of recovery following the COVID-19 pandemic or any future resurgence; general economic uncertainty in key global markets and a worsening of global economic conditions or low levels of economic growth; the rate and the pace of economic recovery following economic downturns; levels of spending in business and leisure segments as well as consumer confidence; declines in occupancy and average daily rate; limited visibility with respect to future bookings; loss of key personnel; domestic and international political and geo-political conditions, including political or civil unrest or changes in trade policy; hostilities, or fear of hostilities, including future terrorist attacks, that affect travel; travel-related accidents; natural or man-made disasters such as earthquakes, tsunamis, tornadoes, hurricanes, floods, wildfires, oil spills, nuclear incidents, and global outbreaks of pandemics or contagious diseases or fear of such outbreaks, such as the COVID-19 pandemic; our ability to successfully achieve certain levels of operating profits at hotels that have performance tests or guarantees in favor of our third-party owners; the impact of hotel renovations and redevelopments; risks associated with our capital allocation plans and common stock repurchase program and quarterly dividend, including a reduction in or elimination of repurchase activity or dividend payments; the seasonal and cyclical nature of the real estate and hospitality businesses; changes in distribution arrangements, such as through internet travel intermediaries; changes in the tastes and preferences of our customers; relationships with colleagues and labor unions and changes in labor laws; the financial condition of, and our relationships with, third-party property owners, franchisees, and hospitality venture partners; the possible inability of third-party owners, franchisees, or development partners to access capital necessary to fund current operations or implement our plans for growth; risks associated with potential acquisitions and dispositions and the introduction of new brand concepts; the timing of acquisitions and dispositions, and our ability to successfully integrate completed acquisitions with existing operations; failure to successfully complete proposed transactions (including the failure to satisfy closing conditions or obtain required approvals); our ability to successfully execute on our strategy to expand our management and franchising business while at the same time reducing our real estate asset base within targeted timeframes and at expected values; declines in the value of our real estate assets; unforeseen terminations of our management or franchise agreements; changes in federal, state, local, or foreign tax law; increases in interest rates and operating costs; foreign exchange rate fluctuations or currency restructurings; lack of acceptance of new brands or innovation; general volatility of the capital markets and our ability to access such markets; changes in the competitive environment in our industry, including as a result of industry consolidation, and the markets where we operate; our ability to successfully grow the World of Hyatt loyalty program; cyber incidents and information technology failures; outcomes of legal or administrative proceedings; violations of regulations or laws related to our franchising business; and other risks discussed in the Company's filings with the U.S. Securities and Exchange Commission ("SEC"), including our annual report on Form 10-K and our Quarterly Report on Form 10-Q filed on May 7, 2020, which filings are available from the SEC. These factors are not necessarily all of the important factors that could cause our actual results, performance or achievements to differ materially from those expressed in or implied by any of our forward-looking statements. We caution you not to place undue reliance on any forward-looking statements, which are made only as of the date of this press release. We undertake no obligation to update publicly any of these forward-looking statements to reflect actual results, new information or future events, changes in assumptions or changes in other factors affecting forward-looking statements, except to the extent required by applicable law. If we update one or more forward-looking statements, no inference should be drawn that we will make additional updates with respect to those or other forward-looking statements.