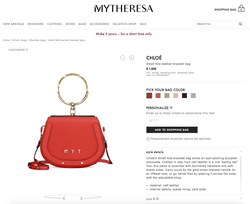 "We're very happy to continue working with mytheresa.com and demonstrating the benefits of our virtual product experience technology to brands, retailers, and consumers of luxury products. This is the future and delivers the ultimate product segmentation."— André Wolper, Embodee CEO and founder
SAN JUAN, Puerto Rico (PRWEB) October 02, 2018
Embodee Corp., the global leader in creating virtual product experiences, today announced its third collaboration with mytheresa.com, one of the world's leading luxury online retailers. The latest venture enables mytheresa.com's shoppers to customize three styles of Chloé leather handbags in a visually rich experience.
The first collaboration, launched nearly a year ago, featured personalization of Gucci's popular leather Ace DIY trainers using Embodee's high-fidelity 3D renderings of shoppers' choices. The second was a customizable version of a Burberry leather card holder. Both offerings enjoyed tremendous consumer response
Studies have shown that shoppers who customize and personalize products to meet their aesthetic tastes have a more intense feeling of ownership and increased loyalty to the product brands.
"We're very happy to continue working with mytheresa.com and demonstrating the benefits of our virtual product experience technology to brands, retailers, and consumers of luxury products," said Embodee CEO and founder André Wolper. "This is the future and delivers the ultimate product segmentation."
mytheresa.com shoppers can choose from three to six colors, depending on the Chloé bag selected, and add a monogram in gold-colored, raised metal letters. As they make their design choices, they can see how the leather bags look from all sides by rotating them 360 degrees and zooming in for highly detailed views.
The bags—the Nile, Faye, and Nile Minaudière—are now available for customization and personalization on mytheresa.com.
Helping power the experience is a newly developed Embodee service component, gViewer, which is a simple embeddable JavaScript module that gives its customers an easy way to use Embodee's image rendering platform within their existing product detail pages.
So far this year, Embodee, the global leader serving virtual apparel product experiences, has supported more than 150 million customization choices for shoppers of our customers' products throughout the world.
The work with mytheresa.com continues Embodee's broadening of its customer base beyond sports apparel companies that use the company's visualization technology to customize apparel and footwear. Embodee has long counted some of the industry's pre-eminent sports apparel brands among its customers.
About Embodee
Embodee Corp. was founded in 2008 to develop methods for helping the apparel industry use 3D visualizations in merchandising and selling products online. The company now delivers virtual product experiences, enabling businesses to give their customers an immersive visual interaction with their products, enriching the online shopping experience.
About mytheresa.com
mytheresa.com (http://www.mytheresa.com) is one of the world's leading online luxury retailers. Launched in 2006, mytheresa.com stands for the finest edit of over 200 international designer brands, such as Balenciaga, Saint Laurent, Prada, Valentino, and many more. The product selection boasts clothes, shoes, bags, and accessories. In 2014, mytheresa.com was acquired by Neiman Marcus Group LTD LLC, a luxury, multi-brand omni-channel fashion retailer.