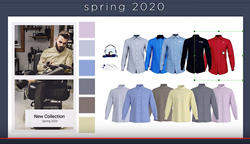 By using Embodee's gViewer, our fashion customers can reach a new level of dynamic behavior in their digital showroom.— Noam Levavi, Byond founder & CEO
NEW YORK (PRWEB) January 13, 2020
Virtual showrooms stocked with 3D digital inventories are increasingly lifelike in simulating real-world inspirations. Byond, which creates these showrooms for brands and retailers, and Embodee, a 3D product visualization company, are developing a first-of-its-kind major enhancement: making it easy to both change design elements of the products displayed inside the showrooms in real-time and instantly see the changes.
The collaboration will focus on virtual fashion products. Available custom design options will include colors, graphics, and personalization features such as someone's initials. For example, a showroom salesperson or merchandiser could make a blue shirt red and add initials to a pocket. As changes are made, the newly created image of the shirt can easily be added to the assortment line.
The Byond-Embodee collaboration will be previewed today and Tuesday in a video and slide presentation at the NRF Retail's Big Show 2020, billed as the world's largest retail conference and expo.
The virtual inventories for Byond's showrooms are imported from popular software visualization platforms such as Browzwear, Optitex, CLO, and others. While these products can be moved within the showrooms in real-time, as in physical showrooms, the product designs can't currently be changed on demand.
Integration of Embodee's 3D visualization technology and its gViewer product with the Byond showrooms will enable simple customization and personalization of fashion products. When design options are chosen, dynamically rendered cloud-based images will show the changes. Visitors also will be able to rotate the virtual products 360 degrees and zoom in for vivid close-up looks.
The collaboration will deliver a more interactive and compelling virtual experience at a time when interest in 3D customization and personalization is increasing. It will also reduce the time needed to modify virtual inventories while adding to collaboration between designers, merchants, and wholesale buyers in Byond's web-based showrooms.
"By using Embodee's gViewer, our fashion customers can reach a new level of dynamic behavior in their digital showroom," said Byond founder and CEO Noam Levavi. "Now they will be able not only to design quickly any story from the product catalog but also customize that catalog visually on the fly."
Embodee founder and CEO André Wolper said, "Until now, our visualization technology has been deployed only on the e-commerce websites of our customers, significantly enhancing them with customization experiences. The results of this collaboration with Byond, when launched, will represent an expansion of Embodee into 3D virtual places that mirror the physical realm."
The presentation will be at Byond's booth, number 7107, on the fourth floor of the Javits Center NYC.
About Byond
Byond was founded in 2016 by industry veterans with the goal to help brands and retailers go through the critical digital transformation that will let them compete in an ever-changing environment. Our team is headed and backed by world-leading innovators in consumer engagement and immersive technologies experts.
About Embodee
Founded in 2008, Embodee makes it easy to set up, configure, and sell custom fashion products online. The company's 3D visualization solutions enable brands and retailers to give customers an immersive visual interaction with products as they customize and personalize them, enriching the online shopping experience, helping to increase order value, and improving customer retention.