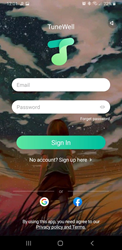 True to Athena's core mission is developing and scaling technology solutions to address our mental health crisis that has been a mounting issue even before Covid-19
NEWPORT BEACH, Calif. (PRWEB) September 14, 2020
New music app helps you manage and transform your mental wellness through personalized music therapy. Listen and thrive with TuneWell.
Athena Music & Wellness Therapy, a pioneer in music therapy and wellness, announced today the launch of TuneWell; a robust, personalized music wellness app where consumers and organizations can experience mental wellness with 100% of the content developed by music therapists.
Created by renowned musician and board-certified music therapist Angelo Molino, TuneWell uses science-based, proprietary music to reduce stress and anxiety, strengthen emotional health and happiness, improve morale and efficiency in the workplace and calm your mind and body. All TuneWell's unique content is created by Athena Music & Wellness Therapy, a global mental health and wellness solutions provider that focuses on music therapy education, treatment, and mental wellness and licensing.
"We are extremely pleased to announce the launch of TuneWell. True to Athena's core mission is developing and scaling technology solutions to address our mental health crisis that has been a mounting issue even before Covid-19. The pandemic has brought the mental health crisis to the forefront. We know that bringing the effectiveness of music therapy to the public through an easy to use app with personalized solutions, can help increase our collective health and well-being," says Athena Music & Wellness Therapy CTO, Jonathan Liang.
The TuneWell app allows users to complete a self-assessment to discern needs and tailor specific content that will provide recommended playlists to treat your symptoms; since every person's needs are different, TuneWell is personalized to meet your needs for healing, change, and growth.
"Music is a powerful medium that opens our hearts and helps us feel more connected to others, to ourselves, and the world around us. As a result, it is a direct line to our emotions and state of being and a very compelling tool for therapy. Music is the only sensory medium that can activate all areas of the brain at the same time, which triggers the development of new neural pathways for health and wellness," explains Angelo Molino, Co-founder of Athena Music & Wellness Therapy.
About TuneWell
Launched in 2020, TuneWell was created by board-certified music therapist Angelo Molino to help people use the healing power of music to achieve optimal mental health and wellbeing. TuneWell's proprietary music and content is unique and created by Athena Music & Wellness Therapy. TuneWell was created with one mission in mind: to use the systematic, scientific aspect of music to address core health and wellness issues so that people can thrive. For more information, please visit us at http://www.tunewell.io.
About Athena Music & Wellness Therapy
Athena Music & Wellness Therapy, Inc. is a mental wellness solutions provider, harnessing the power of music to help individuals and groups with a myriad of challenges from autism to Alzheimer's, and from addiction to depression. We specialize in clinical music therapy treatment, therapist education, mental wellness, and licensing. To learn more, please visit us at http://www.athenamwt.com.
To download the app: