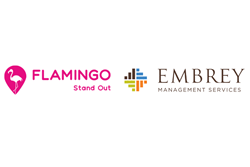 We are pleased to be partnering with Flamingo to help take our service to the next level with tools designed to advance the efficiency and effectiveness of what we do best
CHICAGO (PRWEB) November 01, 2021
Embrey creates places where people want to be and this national partnership with Flamingo provides busy site teams with streamlined tools to provide amazing resident experiences and engagement.
"Embrey Management Services (EMS) consistently wins national awards for its service to residents," said Allyson McKay, Managing Director and Executive Vice President for EMS. "We are pleased to be partnering with Flamingo to help take our service to the next level with tools designed to advance the efficiency and effectiveness of what we do best.
With this partnership, communities managed by Embrey can produce high-quality resident engagement and experiences quickly, thanks to Flamingo's all-in-one resident experience platform. Embrey team members will be able to use Flamingo's various tools to boost resident engagement and maximize the ROI from resident events, including an easy way for residents to RSVP, submit event pictures, and write reviews for each property.
"With more residents than ever working from home, resident engagement and experiences are even more important as residents seek a sense of community that they might not be getting from zoom calls with remote co-workers. Flamingo's platform makes it easy for us to deliver on these experiences to our residents." said Jasmine Toney, Marketing Strategist at Embrey.
"With apartment site team members struggling with dozens of tasks on their to-do list each day, we are always excited to partner with companies like Embrey who are looking to make life easier for their site teams by providing them with modern tools that help them execute faster. Of course, we're also thrilled to bring fun experiences to the thousands of residents that call an Embrey community home." said Jude Chiy, Flamingo's CEO & Founder.
About Embrey
San Antonio-based Embrey Partners, LLC is a diversified real estate investment company that owns, develops, builds, acquires, and manages multifamily residential communities and commercial assets in targeted markets across the United States. Since 1974, Embrey has developed more than 44,000 apartments and over 6 million square feet of commercial property. Embrey is a leading developer in the multifamily sector, with more than 6,000 units under construction or in development. http://www.embreydc.com
About Flamingo
Flamingo is an all-in-one resident engagement and experience platform providing the One-App Resident Journey. Instead of making residents download a million apps, apartments now use Flamingo's One-App Resident Journey to offer everything residents need in one app - resident events, on-demand fitness, rewards, digital resident guide, move-in, communication and more. Over 600 apartments use Flamingo's platform to stand out.