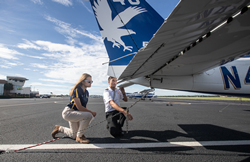 Embry-Riddle goes the extra mile to ensure the safety of its students and employees. Our culture of aviation safety is unsurpassed. --Tyler Rispoli, Embry-Riddle student and flight instructor
DAYTONA BEACH, Fla. (PRWEB) July 16, 2019
By passing the third and highest stage of a particularly challenging international safety-audit process – something no other university flight operation has done – Embry-Riddle Aeronautical University has served its students well, said rising senior Tyler Rispoli.
"This new registration is a way of telling students, prospective students and their parents what Embry-Riddle is all about," said Rispoli, a flight instructor and member of the Eagles Flight Team. "Embry-Riddle goes the extra mile to ensure the safety of its students and employees. Our culture of aviation safety is unsurpassed."
The safety designation, known as "IS-BAO Stage III," reflects that Embry-Riddle consistently goes above and beyond safety requirements set forth by the U.S. Federal Aviation Administration (FAA), said Bob Joyce, director of Aviation Safety for the university's Daytona Beach Campus. The International Business Aviation Council (IBAC), headquartered in Montreal, Canada, determines whether a flight operation has met IS-BAO (International Standard Business Aircraft Operations) standards through a comprehensive audit process, he explained.
"The aviation safety culture at Embry-Riddle is driven by everybody working together, from leadership and faculty to flight instructors, mechanics and students," Joyce said. To achieve the highest stage of IS-BAO registration, he added, Embry-Riddle had to demonstrate that it has a safety management system in place, effectively manages risk, and maintains a strong safety culture. Achieving Stage III registration involved a careful review of all documentation as well as auditor interviews with a wide range of personnel and students.
Rispoli, an Aeronautical Science major from Altoona, Penn., is working toward a career as a commercial pilot. He cited open lines of communication across Embry-Riddle's flight operation as key to maintaining the highest possible safety standards. Embry-Riddle is one of only a few flight training programs of its type to voluntarily take part in the FAA's Aviation Safety Action Program, or ASAP, which allows anyone who has a safety concern at any time to report it without fear of penalty or ridicule.
"The culture of safety at Embry-Riddle makes it clear that if you ever come upon a safety issue or just something you think could be improved, you can step up and take matters into your own hands," Rispoli said. "Everyone is responsible for safety and everyone's concerns are heard. As a student, that's a lesson I'm taking to heart and plan to use later on in life."
Dr. Ken Brynes, chair of the Flight Department on the university's Daytona Beach Campus said, "At Embry-Riddle, our number one focus and priority is always safety. There is no doubt that the IS-BAO protocols and registration process have helped us significantly mature our safety management system over the years. As a result, our flight training operation is safer and our safety culture is stronger. We are very proud that we have attained Stage III IS-BAO registration."
Embry-Riddle's Daytona Beach Flight Department earned Stage I IS-BAO registration in May 2015. Stage II was achieved in November 2017. Joyce said the university was notified of its Stage III registration in June 2019.
The department's fleet currently includes 62 Cessna aircraft and 10 Diamonds. Training is supported by 12 flight-training devices and one full-motion simulator. Flight Data Monitoring Analysis technology lets Embry-Riddle leadership see in real-time what's happening from the moment a plane takes off, until it lands. These data make it possible to continuously fine-tune safety protocols and spot issues before they become problems.
"At any given time, we have close to 1,300 students in training and more than 200 instructors as well as 30 Airframe & Powerplant certificated technicians," Byrnes said, "and our flight operation's safety record far exceeds the industry average."
"I'm so proud of our Flight Department personnel for truly embracing safety management systems as the way we operate," said Dr. Alan Stolzer, dean of the College of Aviation. "We have the finest professionals in the business of flight training and education, and we strive to get even better on a daily basis."
ABOUT EMBRY-RIDDLE AERONAUTICAL UNIVERSITY
Embry-Riddle Aeronautical University is the world's largest and most comprehensive institution specializing in aviation, aerospace, engineering and related degree programs. A fully accredited university, Embry-Riddle is also a major research center, seeking solutions to real-world problems in partnership with the aerospace industry, other universities and government agencies. A nonprofit, independent institution, Embry-Riddle offers more than 100 associate's, bachelor's, master's and Ph.D. degree programs in its colleges of Arts & Sciences, Aviation, Business, Engineering and Security & Intelligence. The university educates students at residential campuses in Daytona Beach, Fla., and Prescott, Ariz., through its Worldwide Campus with more than 135+ locations in the United States, Europe and Asia, and through online programs. For more information, visit http://www.embryriddle.edu, follow us on Twitter (@EmbryRiddle) and facebook.com/EmbryRiddleUniversity, and find expert videos at YouTube.com/EmbryRiddleUniv.