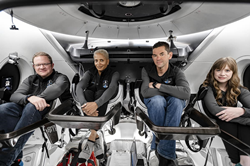 "We wish the whole Inspiration4 crew a very safe and successful mission. We thank them for being a source of inspiration to students who may wish to follow in their footsteps." - Embry-Riddle President P. Barry Butler
DAYTONA BEACH, Fla. (PRWEB) September 13, 2021
Embry-Riddle Aeronautical University President P. Barry Butler today sent best wishes to two graduates of the school – Jared Isaacman and Chris Sembrowski – as they prepare to blast off aboard SpaceX's Inspiration4 later this week.
Isaacman serves as Inspiration4 commander and benefactor, while Chris Sembrowski is a member of the four-person crew.
"Everyone at Embry-Riddle is excited about the mission and proud of our Eagles, Jared and Chris," Butler said. "Through their participation in this mission, they are also raising funds for St. Jude's Children's Research Hospital. In doing so, they are exemplifying Eagle values, which call on us to be of service to each other. We wish the whole Inspiration4 crew a very safe and successful mission. We thank them for being a source of inspiration to students who may wish to follow in their footsteps."
Isaacman, an entrepreneur who graduated from Embry-Riddle's Worldwide Campus in 2011, sponsored the Inspiration4 mission. Sembrowski is a 2007 Embry-Riddle graduate who works for Lockheed Martin.
Read more about these Embry-Riddle's alumni online: https://news.erau.edu/headlines/embry-riddle-alumnus-jared-isaacman-one-of-two-eagles-to-crew-first-ever-civilian-spaceflight. Watch video from Isaacman's recent participation in an Embry-Riddle Aviation Outlook webinar: https://www.youtube.com/watch?app=desktop&v=GCyu0vEpbR0&feature=youtu.be.
With Embry-Riddle alumni Isaacman and Sembrowski now bound for space, Embry-Riddle – the world's leading aviation and aerospace university – can count nine astronauts among its graduates.