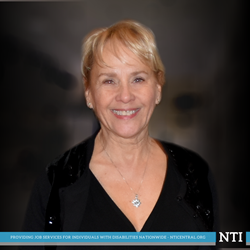 "It is our job as NTI eMentors to make these job seekers feel comfortable in their transition to a new career. These candidates sometimes feel alone because their normal network is no longer available, and they appreciate having someone in their corner during this uneasy time," Roger Stagnaro
BOSTON (PRWEB) January 17, 2019
January 17th marks the fourth annual International Mentoring Day, a date chosen because it also happens to be the birthday of Muhammed Ali, world-renowned boxer, human rights activist, and philanthropist. Ali said, "Service to others is the rent you pay for your room here on earth," and mentoring is an impactful way to serve and create a better world now and for future generations.
Mentoring can create a powerful bond that creates lasting relationships especially important in the lives of individuals who feel isolated, including those with disabilities. NTI (http://www.nticentral.org) instituted its mentoring program in 2016 in response to the need it saw for individuals with disabilities searching for a job to have someone to help them guide them through the process and be a kind of cheerleader along the way. Many of the individuals who come to NTI for job services have been out of the workforce for several years due to an injury or disability. Reentering the workforce can be a daunting task, as the pace of technology and workforce management changes so rapidly in today's job environment.
Experts agree mentoring can lead to positive outcomes when an experienced individual takes an interest in and encourages someone with less experience, and NTI has seen great results. To date, NTI eMentors have helped more than 2,000 people complete free training and more than 400 people find employment. Senior eMentor Roger Stagnaro knows the power of mentoring is transformative for the individuals he mentors. "It is our job as NTI eMentors to make these job seekers feel comfortable in their transition to a new career. These candidates sometimes feel alone because their normal network is no longer available, and they appreciate having someone in their corner during this uneasy time," Stagnaro said. NTI eMentors not only guide job seekers through the maze of training and paperwork, they also challenge their mentees to do their best and move out of their comfort zone. "My team is great, and every day brings another success," said Lynda Gardner, Associate Director of eMentoring.
Job seekers working with NTI eMentors have a virtual hand to hold along the journey, and it makes a difference. April, who came to NTI looking to find at-home employment but not sure where to start, found a job with the help of her eMentor and said, "My eMentor helped me gain independence and really boosted my self-confidence." Amy, another job seeker said, "My eMentor called me regularly to see how I was doing and gave me encouragement when I wasn't quite sure of myself." EMentors at NTI help job seekers set achievable goals, stay focused on daily tasks required in a successful job search, and provide feedback on what skills are needed and how to best learn them. They stay in touch with their mentees from the day they apply for NTI's services all the way through the first three months of successful employment. NTI EMentors help new employees advocate for themselves on the job and provide a sounding board for common concerns and questions during the stressful first days on a new job.
On January 29, NTI will be one of only five organizations honored by induction to the Susan M. Daniels Disability Mentoring Hall of Fame sponsored by the National Disability Mentoring Coalition (NDMC). Since few programs exist that provide mentoring to adults with disabilities seeking to reenter the workforce, NTI stands out in the crowd. NTI Director of eMentoring, Lynda Gardner, and Director of Marketing, Mike Sanders, will be in attendance to receive the award in Washington D.C. Judith Heumann, world renowned human rights activist, and Diego Mariscal, founder and CEO of 2gether International, will be emceeing the evening where mentors from across the nation will be honored. Sanders said, "We are proud to be honored for our work guiding Individuals with Disabilities back into the workplace. Each day, within NTI, we hear stories of people who were helped back into a job after 5 plus years of being unemployed. When they show up for their first day of work, they are ready to shine and the people who hired them see that light. It's a great feeling to contribute to their journey."
Mentoring provides a great way to foster diversity and inclusion, and NTI is proud of all the mentors and mentees that have gone through its programs. On International Mentoring Day, the words of Muhammad Ali's wife Lonnie are particularly relevant. "I am hopeful that on this day, and for years to come, ordinary people will take the first step to mentor someone who needs support, direction, and more importantly someone to simply believe in them. After all, mentors have the power to transform lives."
About NTI: National Telecommuting Institute. Inc (NTI) is a 501 (c)(3) (http://www.nticentral.org) non- profit organization with headquarters in Boston, MA. It has been supporting Americans with disabilities since 1995. NTI provides training and job services in work at home positions across the United States through their NTI@Home and LandAjob.org programs. NTI pioneered staffing virtual call centers with Americans with Disabilities, including Disabled Veterans, who work from home.
About the National Disability Mentoring Coalition: The Coalition aims to raise awareness about the importance and impact of mentoring in the lives of people with disabilities and to increase the number and quality of disability mentoring programs around the country. Learn more and apply to join the Coalition at: http://www.disabilitymentors.org.