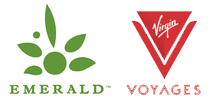 "Driving change to solve the issue of plastic waste and deforestation has been embedded in our company's ethos since my father founded our group over twenty years ago," states Ralph Bianculli Jr., Managing Director of Emerald Brand
PLANTATION, Fla. (PRWEB) April 22, 2019
Virgin Voyages and Emerald Brand have announced a strategic sustainability partnership to deliver Virgin Voyages' Sailors a unique, Tree-Free™ and plastic-free experience on board their new fleet of ships. The partnership begins on the Scarlet Lady, setting sail in 2020.
Virgin Voyages is among the first of major cruise lines to ban Sailor-facing, single-use plastic. Their goal: to fully embed sustainability into their business model through their operations and the Sailor experience itself. In addition to replacing single-use plastics with reusable items, Virgin and Emerald will deliver a Tree-Free™ experience through the ship's disposable paper products. Bath tissue, facial tissue, hot cups, paper towels, and napkins will be made from 60% to 100% Tree-Free™ material. These products are made with unique technology that uses the by-product of agricultural crops that are typically burned or wasted, in place of trees.
The partnership underscores the level of impact both companies are seeking to make. Jill Stoneberg, Director of Sustainability and Social Impact at Virgin Voyages, states "We have really ambitious goals here so no decision is taken lightly. Everything down to seemingly simple changes in our supply chain are made with the intention of giving Sailors the absolute best experience while continuing to change business for good."
"Driving change to solve the issue of plastic waste and deforestation has been embedded in our company's ethos since my father founded our group over twenty years ago," states Ralph Bianculli Jr., Managing Director of Emerald Brand. "It is a pleasure to partner with Virgin Voyages, who is showing its Sailors and the world that you can balance both enjoying the earth and caring for it at the same time without sacrificing your experience."
In addition to providing Tree-Free™ and plastic-free products to the ships, Emerald's team of environmental experts, known more commonly as the Eco-Squad™, will help Virgin Voyages measure and communicate the environmental footprint reduction that has resulted from the switch to Emerald's products. The Eco-Squad™ will also provide solutions for continuous improvement throughout the supply chain.
ABOUT VIRGIN VOYAGES
Virgin Voyages is a global lifestyle brand committed to creating the world's most irresistible holiday. With operations in the US, UK and Europe, Virgin Voyages currently has four ships on order with master shipbuilder Fincantieri.
With its inaugural season scheduled for 2020, Virgin Voyages' first ship the Scarlet Lady was designed to reflect a yacht's sleek luxury. Featuring spaces designed by some of the top names in contemporary interiors, the Scarlet Lady will be Adult-by-Design, a sanctuary at sea for the 18+ traveler. A dose of 'Vitamin Sea' will be naturally intertwined across the entire ship, with well-being activated through a mix of high-energy moments coupled with relaxation and rejuvenation. The Scarlet Lady will also feature alluring entertainment and 20+ world-class intimate eateries on board. Putting a twist on luxury, which the company refers to as Rebellious Luxe, Virgin Voyages will offer incredible value for its Sailors with all restaurants, group fitness classes, soft drinks, and many more Virgin surprises included within the voyage fare. The Scarlet Lady will sail from Miami to the Caribbean in 2020, hosting more than 2,770 Sailors and 1,160 amazing crew from around the world. Keep watch on http://www.virginvoyages.com for more updates.
ABOUT EMERALD BRAND
Family owned and operated since 1997, Emerald Brand is committed to innovating through Tree-Free™, sustainable and rapidly renewable solutions. Emerald's innovations in Tree-Free™ technology and petroleum free plastics is revolutionizing packaging and disposables worldwide. Emerald's growing suite of 300+ sustainable finished products offers the workplace a healthier and more sustainable environment.
Corporate solutions include educational forums, measurable environmental impact statements, and Emerald Eco-Squad™ consulting services that are at the forefront of future movements in composting and recycling.
Emerald Brand, in conjunction with Emerald Ecovations material technology group, will continue to innovate Emerald's growing finished goods and retail packaging materials. The company's mission of "Farm to Tissue®, Made in the USA" is on track to revolutionize the entire industry.
Follow Virgin Voyages:
Instagram: @virginvoyages
Facebook: @virginvoyages
Twitter: @virginvoyages
LinkedIn: Virgin Voyages
YouTube: Virgin Voyages
Virgin Voyages Official Blog, Ahoy!: http://www.virginvoyages.com/ahoy/stories
Follow Emerald Brand:
Instagram: @emeraldbrand
Facebook: @TheRealEmeraldBrand
Twitter: @EmeraldBrand_
Linkedin: Emerald Brand
Youtube: Emerald Brand
Emerald Brand Official Blog
https://emeraldbrand.com/blog/
MEDIA CONTACTS:
Virgin Voyages
Christina Baez
media@virginvoyages.com
Emerald Brand
Taurean McDade
tmcdade@paradigm-grp.com
(516)-496-0000