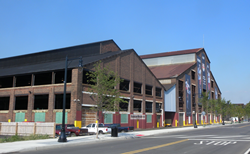 This strategic location adds logistics to the growing demand from our Mid-Atlantic and Midwest client base
HUNTINGTON, N.Y. (PRWEB) March 11, 2020
Today, Emerald Brand announces the addition of its fourth distribution center located in Harrison, New Jersey.
"This strategic location adds logistics to the growing demand from our Mid-Atlantic and Midwest client base" states Keith Roenelt, Executive Vice President of Operations of Emerald Brand.
Emerald Brand has seen significant growth across several key divisions in 2019 including foodservice and its Made in USA Tree-Free packaging and towel-tissue businesses. "Key silos of growth for our business in 2019 included hospitality, leisure, educational institutions, the financial sector, and major international tech firms," states Ralph Bianculli Jr., Managing Director of Emerald Brand. "We are continuing to see stronger demand for our consultative services in waste reduction, composting, stakeholder engagement and education that comes along with our Tree-Free™ and Plant to Plastic® product portfolio," added Bianculli.
This location will add to Emerald's three current distribution centers located in Hauppauge New York, Hayward California and Jacksonville Florida. Emerald continues to build a supply channel that can deliver a complete portfolio of sustainable solutions at a uniform price point with a consistent sustainability story that leverages the most up to date technology in Tree-Free™ and Plant to Plastic® solutions across the United States. The company also suggested they're looking to add two additional distribution centers over the next 12 months.
"We are finding that the demand curve is going from "I want green products" to "I need sustainable solutions," and it is no longer a binary decision," states Ralph Bianculli Sr., CEO, and Founder of Emerald Brand.
About Emerald Brand
Innovators in material technology since 1997, Emerald Brand is committed to educating the entire disposable supply chain on the benefits of using Tree-Free™, sustainable and rapidly renewable solutions. Emerald's innovations in Tree-Free™ technology and petroleum-free plastics are revolutionizing packaging and disposables worldwide. Emerald's growing suite of 300+ sustainable finished products offers the workplace a healthier and more sustainable environment.