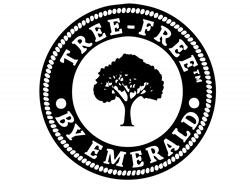 Being able to offer packaging solutions on a substrate that is completely Tree Free, while maintaining the cost and performance of paperboard is a game-changer.
HUNTINGTON, N.Y. (PRWEB) February 01, 2021
Emerald Brand and Impress will partner to bring sustainable packaging options to businesses and brands of all size across the U.S. Impress will now be offering Emerald's Tree-Free™ board as an option for clients to create product packaging and print.
"This is a very strategic partnership where we have already received commitments and are in the process of launching with several major national consumer brands. I have never seen such momentum and success in such a short period of time in my 15 years in the industry" states RJ Bianculli, Managing Director at Emerald Brand.
Emerald Brand and Impress Communications are both companies founded on innovation. As sustainable packaging demand grows, innovative technology is essential. The sustainability trend began in products and has evolved into product packaging.
Impress Communications' Executive Director, Paul Marino says, "This is a historic moment for Impress and our customers, as well as the packaging industry at large. Being able to offer packaging solutions on a substrate that is completely Tree Free, while maintaining the cost and performance of paperboard is a game-changer."
Marino continues, "We are excited to be the exclusive SoCal source for Tree Free™ board, bringing this innovative product to our most environmentally conscious customers' brands, but also helping shepherd in a sea change within our industry – as today's consumer is no longer satisfied with only "green" brands caring about the environment."
About Emerald Brand: Innovators in material technology since 1997, Emerald Brand is committed to aiding the end of deforestation and the plastic crisis. Emerald's innovations in Tree-Free™ technology and petroleum free plastics are revolutionizing packaging and disposables worldwide. Emerald's growing portfolio offers over 300 finished products as well as sustainable options brands can use to take their products to the next level.
About Impress Communications: Impress Communications is an innovator and solutions-focused packaging provider for top multinational brands and emerging startups alike. The Impress DNA is structured around disrupting norms and finding unique channels for brands to differentiate themselves. As such, some of our most important customer collaborations are with companies that share a similar outlook and are actively looking to bring transformative products to market with a large focus on sustainability. Impress Communications began with a core competency in commercial printing and packaging dating back to its inception 31 years ago. However, unlike much of the industry Impress adopted an organizational philosophy of continuous innovation and evolution that has continued to drive its capabilities above and beyond the world of printing. Impress continues to push the industry's sustainability standards leading the way with North America's first High Efficiency UV (H-UV) presses, reducing C02 emissions by over 75% and exclusively using inks, coatings and glues that are Prop 65 compliant.