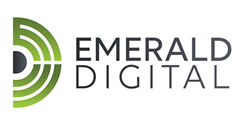 "It's been a really busy month and a half. We're working on some cool projects that are letting us flex a lot of creative and technical skills."
NEW YORK (PRWEB) February 19, 2019
Emerald Digital, a full-service digital marketing agency with offices in New York and New Orleans, has kicked off the year strong with the signing of several high-end clients across multiple industries and cities around the globe.
Among the new clientele is private jet charter service Alerion Aviation, athletic apparel company Synagogue of Strength,Turks and Caicos luxury retreat Villa Bella Vita and bid management software company The Bid Lab. Each client has signed on with the intent of building connectivity with consumers, brands and distribution channels through targeted social marketing, website strategy and design, improved search engine optimization (SEO) and other digital marketing services provided through Emerald Digital.
"The Bid Lab always outperformed its competitors in its website design and usability, but it was clear from an early stage that our SEO and Adwords strategy was lacking," said The Bid Lab CEO, Maurice Harary. "Having identified this gap, I took a 25+ hour course to try and manage the Adwords account myself. In short, I learned that I definitely could not. Enter Emerald Digital into the solution and The Bid Lab was set."
Emerald Digital is the joint venture between NYC-based public relations firm HeraldPR, founded by Warren H. Cohn, and NOLA-based digital marketing agency Ember Networks, founded by Matthew Berman. Launched at the end of last year, the two agencies came together after realizing the need for a full-service digital marketing agency that pulled from traditional PR and media relations and a data-driven marketing approach to provide 360-degree solutions from inception to completion.
Berman and Cohn originally met while studying at Tulane University in New Orleans. As two boys from New York City -- Berman from Queens and Cohn from Brooklyn -- they instantly hit it off. In school they worked together on projects like volunteer work and local marketing campaigns, and often brainstormed business ideas. Post-graduation Berman stayed in New Orleans and Cohn moved back to NYC, but their partnership stayed in tact as they worked together on political campaigns over the years. In 2011, Berman founded Ember Networks in New Orleans. A year later, Cohn started HeraldPR in NYC. From the beginning, Berman and Cohn consulted one another on business decisions, referred clients to the other's firm and collaborated on projects. In 2018, Emerald Digital launched as the formal partnership of the two companies.
"We've hit the ground running," Berman said. "It's been a really busy month and a half. We're working on some cool projects that are letting us flex a lot of creative and technical skills."
Cohn serves as CEO of Emerald Digital, based in NYC, and Berman serves as President, heading the New Orleans office.