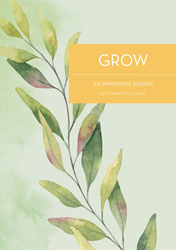 prompts readers to dive deep and find the natural beauty that lives within each of us.
PALOS VERDES ESTATES, Calif. (PRWEB) May 15, 2019
GROW: an awareness journal is a guided journal that follows the patient process of nature from seed to bloom, facilitating readers to write their way into deeper awareness, cycle through personal discoveries, and grow. With thoughtful questions, powerful quotes, and illuminating meditations, GROW creates a mindful space that fosters awareness and transformation.
Christie Havey Smith, M.A. is a Los Angeles-based author specializing in narrative nonfiction literature. She leads workshops in the Los Angeles area that foster awareness, creativity, and personal development. Smith is certified in meditation and mindfulness through The Greater Good Science Center at the University of California, Berkeley and she has her M.A. in Theology from Loyola Marymount University. Smith is also the author of From Three Feet off the Ground, the charismatic story of her following her toddlers in a humbling yearlong lesson on how to see the world.
Praise for GROW:
''GROW offers a beautiful, mindful space that serves as a guide to both silence and authentic language—a map to the self cowritten by the reader.'' - Sarah Herrington, Co-author of Wanderlust: A Modern Yogi's Guide to Discovering Your Best Self
''With carefully crafted reflections, GROW prompts readers to dive deep and find the natural beauty that lives within each of us.'' - Leah Bernstein, Co-founder of Strong, Calm + Playful
''GROW is a strengths-based tool that gently encourages self-understanding while honoring the vulnerability embedded in the experience of befriending oneself.'' - Jamie Eisenberg, LCSW
Emerald Shores Publishing
Full color paperback: 142 pages
ISBN-13: 9781545631072
Release Date:4/30/2019
Price $14.99