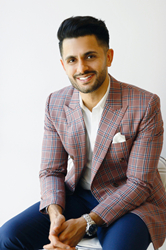 He has a special interest in preventative care with optimizing health and fitness while using his years of fitness knowledge.
LOS ANGELES (PRWEB) November 23, 2021
Dr. Akash Mehta is an Emergency Medicine board-certified specialist, health and fitness consultant, and Concierge Medicine physician based out of Los Angeles. Dr. Mehta is making his mark with this next generation of physicians, by applying the most up-to-date research and tools to best care for his most critical patients in his Emergency Department along with his private concierge patients. He has a special interest in preventative care with optimizing health and fitness while using his years of fitness knowledge acquired from being a multi-sport athlete (including being a 4th-degree black belt in Tae Kwon Do) since a young age and the 12+ years training in medicine after high school.
Dr. Mehta grew up between New Jersey and Florida, and first obtained a full Bright Futures scholarship to study at the Honors College at the University of Florida where he obtained a Bachelor of Science. Afterward, he began working as a microbiologist for a year. He decided to change careers and then entered the Touro College of Medicine in Manhattan. After finishing medical school, Dr. Mehta completed his Emergency Medicine residency at Mount Sinai Medical Center in Miami Beach.
Then Dr. Mehta joined Kaiser Permanente as an Emergency Medicine attending physician in West Los Angeles. After some years of obtaining intricate knowledge of the healthcare system by working for such a conglomerate, he decided to branch on his own and create Nyla Health. He continues to work with various Emergency Medicine groups in and around Los Angeles, and most notably had extensive experience in the frontline during the COVID-19 pandemic. Especially concerning the pandemic, he contributed his knowledge and experience to digital health and technology companies that are setting the stage for medical breakthroughs. Lastly, he has also created a concierge medicine in-home practice which is quickly making him a concierge doctor of choice for many Hollywood celebrities and athletes.
Learn more about Dr. Akash Mehta by visiting: https://hauteliving.com/hautebeauty/mdmember/dr-akash-mehta/
ABOUT HAUTE MD NETWORK:
Haute Beauty is affiliated with the luxury lifestyle publication Haute Living. As a section of Haute Living magazine, Haute Beauty covers the latest advancements in beauty and wellness, providing readers with expert advice on aesthetic and reconstructive treatments through its network of acclaimed doctors and beauty experts.
For more about Haute Beauty visit https://hauteliving.com/hautebeauty/