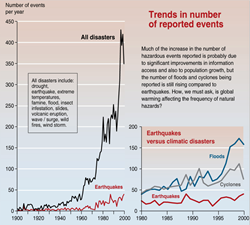 PARK CITY, Utah (PRWEB) August 29, 2018
Since 1970, the number of disasters worldwide has more than quadrupled to around 400 a year as evident by the recent compelling articles in top publications: Weather-Related Disasters are Increasing (Economist 8/18); The World Battles Extreme Weather (Financial Times, 7/18).
September is National Preparedness Month, and disaster expert Christian Schauf is well poised to empower people with the proper gear and education to guide them back to safety in an unanticipated event. As the founder of Uncharted Supply Company and the creator of the Seventy2 Survival System, he is both an athlete and adventurer who has spent his lifetime helping to make the world a better and safer place to live. He has traveled 40 times with troops to Iraq and to some of the most dangerous places on earth. Sir Richard Branson refers to him as "a very brave guy." He has raised tens of thousands of dollars for charities as a philanthropist and continues to empower people to be prepared in any disaster: hurricanes, tornadoes, floods, wildfires, man-made disasters, terrorist acts.
With such recent events like powerful Hurricane Lane in Hawaii, America is bracing themselves for even more destructive natural forces in the months to come during hurricane, flood, and tornado season as the public seeks guidance from experts who can help them to be prepared should a disaster occur in their area. Statistics tell us that 95% of unexpected emergency situations are resolved in 72 hours. What you do with them is what counts.
"In an emergency, a few simple tools can change a potentially deadly situation into a life-saving one," said Schauf. Profiled in Entrepreneur Magazine, he adds, "We designed the Seventy2 to be the world's best survival system. While the Seventy2 is a fully functional earthquake or hurricane "go bag," it's also an extremely useful tool day-to-day."
Schauf is available for interviews during National Preparedness Month and is armed with a unique insight on emergency preparedness for the everyday person.
Hear his podcast(The weekly series focuses on guests who have forged unique paths to success and how they prepare for the unexpected. These stories are told through the voices and real-life stories of pro athletes, visionaries, military personnel, business leaders, and authorities in a variety of industries.
Experience the "72 Survival System"
MEDIA CONTACT: Jordan Wilsted, Verde Brand Communications, Jordan(at)verdepr.com, 970-259-3555 x122