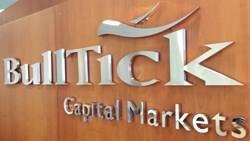 "EM is getting crushed under the weight of Fed 'tapering' fears, but the market really fears a 'sudden stop' in capital inflows similar to what happened in the EM crises of the mid 1990s," says Bulltick's Kathryn Rooney Vera
Miami. Florida (PRWEB) August 29, 2013
Last week, Bulltick Research Team's senior macroeconomic strategist, Kathryn Rooney Vera, appeared on Bloomberg Television's program "Market Makers" live to give her views on the recent precipitous drop in emerging market assets. This decline has been intense: a benchmark Brazilian equity fund has returned -24% year-to-date, -47% from the 2010 peak, MSCI emerging markets -13% so far this year, while emerging market bonds have also gotten crushed with benchmark bonds falling double digits, and local currency bonds worse off (Brazil 2024s -37% year-to-date). The EM currency sell-off has been tremendous with the BRL -18% year-to-date, worsening inflation pressures in an already-stagflationary environment in Brazil. Meanwhile, investors withdrew a large $8.4 billion from emerging market ETF's already so far this year.
"EM is getting crushed under the weight of Fed 'tapering' fears but it's more than that. The market really fears a 'sudden stop' in capital inflows into EM assets similar to what happened in the mid 1990s, when US monetary policy eroded world liquidity leading to tremendous pressure and crises in the emerging world." – Kathryn Rooney Vera, Macroeconomic Strategist, Bulltick Capital Markets
In the August 21, 2013 Bloomberg Television segment entitled "Emerging Markets on the Precipice", Kathryn argued that this market reaction was de facto pricing in a sovereign crisis such that the market saw back in the 1990s. At that time, the Fed took interest rates 300bps higher in a year causing a massive contraction in global liquidity and precipitating a "sudden stop" in capital flows and ripple effects in the unprepared emerging world. Kathryn argued that 2013 is not the mid-1990s, the Fed will not hike rates for the next couple of years and emerging markets are far better prepared than they were at that time of crisis with floating versus fixed exchange rates, war chests of net international reserves, and far lower debt ratios.
Last week, the head of Research and Managing Director at Bulltick, Alberto Bernal, appeared on CNN's "Globoeconomia" program in Spanish. The 20 minute program aired multiple times on that network, reaching a wide range of audience; Alberto provided his insight and analysis on global monetary policy and the impact on global markets. Alberto appeared in the three-part program analyzing Federal Reserve policy; European monetary policy; and lastly Japan's monetary policy. See all the segments here.
Alberto gave an extensive interview to "Estrategia de Chile" that appeared in that periodical August 22, 2013 entitled "Información Exacta del Retiro de Estímulos de la Fed Tendrá Efecto Estabilizador". See this article here. Alberto responded in a Reuters article to poor economic data releases out of Mexico as that country cut it outlook after that economy contracted for the first time since 2009. Alberto was also quoted in a column by Andres Oppenheimer in the Miami Herald "Andres Oppenheimer: Weaker currencies may hurt Miami — a bit". Meanwhile, the highly reputable Argentine periodical, El Cronista, interviewed Kathryn for its print and online newspaper on the Brazilian real sell-off and implications of government intervention.
The Bulltick Research Team published its extensive monthly research piece "Federal Reserve Policy and Outlook for the Markets" and held its monthly strategy conference call last week. Our team reviewed the potential repercussions on the markets of an unwind of the Federal Reserve's asset purchase program and gave its outlook on the timing therein.
About Bulltick Capital Markets
Bulltick Capital Markets Holdings, LLC, through its subsidiaries, is a securities brokerage, asset management and investment banking firm that provides its clients with diversified financial products by leveraging its Latin American roots and international expertise. We offer insight, opportunities, and top execution services to financial institutions and qualified investors.
Headquartered in Miami, Florida with offices in Mexico City and Bogota, we are optimally positioned to serve the needs of Latin American and other clients seeking access to and expertise in US and global securities markets. We maintain our local roots, insight and networks within Latin America for the benefit of our clients. We offer our clients the personal service and flexibility of boutique firms along with the financial capabilities of larger institutions. We deliver services through five business lines: Sales and Trading, Full Service Brokerage, Wealth Management, Investment Banking, Research.