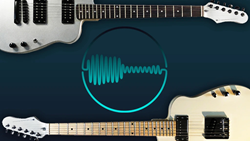 This guitar stands out from the vast ocean of electric guitars that mostly look, feel, and sound the same--and sets you apart as the bold and creative artist that you are.
LONDON, Ontario (PRWEB) September 09, 2021
Instrumental Aluminum Incorporated (instrumental-aluminum.com), an emerging socially responsible company leading the charge on positive change to the guitar industry through innovative design and responsible business practices, launches today with its patent-pending, aluminum bodied hybrid electric guitars.
Responsibly designed for reduced environmental impact, Instrumental Aluminum's use of recycled aluminum for its electric guitars, means less demand for wood. The company aims to become an industry leader, using alternate materials and processes for its patent-pending design innovations.
"We've set out to create a better kind of musical instrument brand—one that is purpose-driven and creates exceptional value to our customers, while promoting positive change. With the launch of Instrumental Aluminum, we're looking forward to filling a void in the space and bring high-quality, sustainable guitars to consumers everywhere," said Instrumental Aluminum Founder Mark Fisher.
Instrumental Aluminum Inc. is founded by musically inclined manufacturing veteran, Fisher, who began studying classical guitar at the age of 12. As a teenager, he began experimenting with various electric guitars and audio equipment, and eventually decided to pursue electrical controls and engineering as a post-graduate career. Mark has worked in automotive engineering for the past 25 years and has launched new products and processes for all major automotive OEMs. In 2020, Mark earned his MBA from Ivey School of Business at the University of Western Ontario, one of Canada's top business schools. Instrumental Aluminum was born out of an entrepreneurial project he completed during his MBA studies. Mark applied his vast expertise and experience to innovate the world's first vacuum die-cast hybrid electric guitar. Mark envisions Instrumental Aluminum as a purpose-driven brand that creates exceptional value and promotes positive change--both locally and globally.
Fisher has also enlisted high-powered guitar authority Howie Kittelson for the launch, to serve as the companies Technical Research and Development Consultant. In his role, Kittleson has provided the necessary technical and design knowledge to bring the companies instruments to a world-class level that any guitarist accomplished or beginner will appreciate.
Kittelson began playing guitar in 1978 after taking just two lessons. Soon after while in Nashville, he became a house technician at Woodland Studios, and he later worked for both the Gibson and Fender Custom Shops. He went on to design his own patented bridge system, conduct research and development for several companies, and run his own custom guitar company in Northport, Maine. His session and touring experience include collaborations with Scotty Moore, Waylon Jennings, Peter Frampton, Marshall Crenshaw, Cheap Trick, and many more.
The aluminum bodied hybrid electric guitars by Instrumental Aluminum offer customers new sounds, increased overall sustain, elevated image and effortless comfort.
Key Product Features:

Hybrid Aluminum Body Design – A highly-engineered design using the company's proprietary vacuum die casting process which provides the user with a unique, innovative instrument that is responsibly manufactured.
Appealing Range of Sound – From warm and smooth to crisp and edgy, Instrumental Aluminum's guitars are remarkably versatile. As a result of the innovative design, there is an increased overall sustain, resonance and timber due to the use of aluminum cast from the company's proprietary process.
Recycled Aluminum – Instruments are made with recycled aluminum which uses less than 10% of the energy required to make new aluminum, and its unique design reduces the amount of wood required by 65%, reinforcing the brand's commitment to responsible and sustainable manufacturing practices.
Instrumental Aluminum intends to use the Sustainable Development Goals as outlined by the United Nations (UN) to guide the launch of the business and bring their products to fruition. The company's Kickstarter campaign is planned to begin in late September of this year, and will offer its products at a discounted rate during the campaign with a promise to deliver the first instruments in May of 2022. With headquarters in London, Canada, the company expects to ship its product to customers globally.
About Instrumental Aluminum
With headquarters in London, Canada, Instrumental Aluminum is the designer and maker of patent-pending, aluminum bodied hybrid electric guitars for customers globally. Instrumental Aluminum is an emerging socially responsible company leading the charge on positive change to the guitar industry through innovative design and responsible business practices.
###