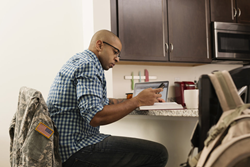 eMerging, Inc. has committed to offering 1,500 individual enrollment scholarships covering over 40 professional disciplines; ranging from Entrepreneurship, Finance, and Network Security, to Analytics, Marketing, and Business Modeling.
Durham, NC (PRWEB) May 03, 2017
eMerging Entrepreneurs, Inc.; with the support of EdX; is excited to announce the launch of a unique educational and professional development opportunity, tailored specifically to active duty service members and veterans who have an interest in advancing their entrepreneurial, career, and leadership capabilities. Sponsored in part by a community grant from Wells Fargo, "eLaunch" is a customized curriculum of online training courses made available by an alignment with EdX: the world's leading provider of online, advanced-level educational resources. Founded in 2012 by Harvard University and MIT, EdX is an online learning destination and MOOC provider, offering high-quality courses from the world's most renowned universities and institutions. To expand the reach of eMerging, Inc.'s veteran's startup and workforce reintegration programs, the non-profit organization has committed to offering 1,500 individual enrollment scholarships, giving access to a full range of Professional Certificate courses and Micro-Masters programs on the EdX platform. This strategy is designed to better equip our veterans (and military spouses who are also encouraged to participate) with the tools necessary to further their transition back into society.
The 24-month scholarship commitment will cover 100% of enrollment costs in select 4 & 6-week certificate courses, advanced-level Micro-Masters programs, and 5-part X-Series training programs within the EdX portfolio. Scholarship consideration is merit based, the majority of courses are self-paced, and upon completion of the material, participants earn a professional certificate from the host institution.
"The introduction of eLaunch brings our non-profit organization full circle," says T.J. Breeden, Executive Director of eMerging Entrepreneurs, Inc.. eMerging, Inc. is a 501(c)(3) non-profit provider of economic development and startup training services. Since its inception, the organization has engaged over 2,000 veterans through an assortment of socio-economic programs, and has received a number of awards and endorsements; among them the White House's "Champions of Change" award (in conjunction with President Obama's "Winning the Future" initiative), the US Small Business Administration's "Veterans Entrepreneurship Advocate of the Year" award, and the "Dr. John Hope Franklin Humanitarian of the Year" award. "Unbeknownst to many, we launched our organization in 2012 with the intention of developing it solely as an online training platform! The lower case "e" in our company's insignia was to signify that our non-profit would operate as an e-business; utilizing web tools, live streaming, and podcasts as the primary means of delivering our services. The capital "M" on the other hand was to place an emphasis on our belief that only through collaboration, strategic partnerships, and the 'merging' of intellectual resources could we advance our shared capacity to make a significant difference in our society. Aligning with the EdX platform positions us to see our vision through to fruition, which is both exciting and fulfilling."
eLaunch consists of a curriculum of carefully selected courses from EdX's library of over 1,400 professional development and continuing education programs. The eLaunch Entrepreneurship Cohort for instance; led by Sr. Administrators from MIT, Harvard University, and Babson College (recognized by the U.S. News & World Report as the #1 ranked Undergraduate Entrepreneurial University in the US); will introduce participants to the fundamentals of starting a successful business. The organization will also offer scholarships for courses from Microsoft, Georgetown, Notre Dame, Cornell, and other institutions in programs covering over 40 additional professional disciplines; ranging from Leadership, Finance, and Network Security, to Analytics, Marketing, and Business Modeling.
"Working with EdX will help us to stretch our capacity and better serve our troops," says T.J. Breeden. "As a civilian organization, we have never charged a veteran for startup or professional development services… As far as I'm concerned, the programs we offer are our way of repaying them for their sacrifice! My hope is that these kinds of resources will help to establish a pathway through which we can not only broaden our capacity to serve, but more importantly help to secure adequate, long-term economic & social stability within a community that is more than deserving of our efforts."
For course availability, scholarship details, and information on eMerging Entrepreneurs, Inc., please visit: http://www.eMerginginc.org; or contact T.J. Breeden at (919) 866-4711 or via email: tj.breeden(at)emerginginc(dot)org.
###