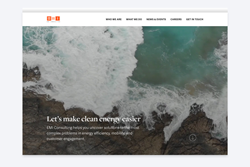 "We are thrilled to have Quinn join the EMI team," said Julie Rey. "Her diverse industry experience will add new dimension to our work and bring a broader view to our clients."
SEATTLE (PRWEB) August 20, 2019
To better serve their clients as they navigate a rapidly evolving industry, EMI Consulting has expanded their leadership team, launched a redesigned website, and refined their clean energy services.
Expanded Leadership
Quinn Parker is joining the EMI team as Director and will work to connect the dots between evaluation results and implementation efforts. Parker comes to EMI with over 13 years of industry experience. She most recently held the position of Vice President, Content and Research, at the Association of Energy Services Professionals.
"We are thrilled to have Quinn join the EMI team," said Julie Rey, President of EMI. "Her diverse industry experience will add new dimension to our work and bring a broader view to our clients."
Parker will report directly to Rey.
New Website
EMI has also launched a redesigned website in partnership with Seattle-based digital agency, Y-Designs.
In tackling the redesign, Y-Designs aimed to create a living representation of EMI's brand, focusing on a clean, accessible, and informative interface.
"We were excited to support a client of EMI's caliber who also shared our core value of creating custom solutions," said Ryuhei Yokokawa, owner of Y-Designs. "With a minimalistic design approach, the new website offers greater functionality while engaging visitors."
This was a first venture into the energy space for Y-Designs. Prior work includes web projects in architecture, engineering, retail, non-profits, and startups.
New Service Offerings
To create more individualized solutions for clients, EMI has also refined their service offerings.
The new website outlines four categories: Evaluation, Measurement, and Verification; Data and Analytics; Market Research; and Strategic Planning. Each category contains two to three offerings.
"We have bundled our best practices to help customers find what they're looking for," said Jeremy Kraft, Director at EMI. "We use these best practices as a starting point for understanding each client's unique needs, so that we can bring a solution that is tailormade."
About EMI Consulting
EMI Consulting advises electric and gas utilities nationwide on business strategies related to new market opportunities, distributed and renewable energy, energy efficiency, and customer engagement. More information is available at http://www.emiconsulting.com.
Media Contact: Krys Buckenwolf | (206) 621-1160 | kbuckenwolf(at)emiconsulting(dot)com