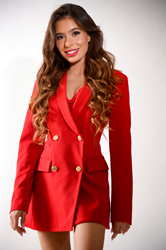 I wanted to make a song that encourages listeners to live in the moment.
LOS ANGELES (PRWEB) March 12, 2021
Pop star, Emilia Pedersen, releases her third single, "Turn It Up". The new pop song follows her previous singles, "Missing Myself" and "Skyline".
"Turn It Up" was written to encourage listeners to live their best lives. Emilia explains, "I wanted to make a song that talks about living in the moment, chasing your dreams, having fun, and enjoying life while you're young."
Emilia's latest single has a mixture of pop and electronic sounds with modern and upbeat vibes. As the name suggests, "Turn It Up" is a fun, dance song perfect for any party or a good time with friends.
The "Turn It Up" remix version will be released on March 26th.
"Turn It Up" is available now on all major platforms. Follow Emilia on social media for more information and future releases.
About Emilia Pedersen
Emilia Pedersen is a half-Brazilian pop singer from Denmark. She currently resides in New York, where she has lived for the last 12 years. Aside from singing, Emilia shines in acting and modeling. Over the years, she has participated in several fashion shows and acted in various productions in New York, Denmark, and Brazil. Emilia is also an ambassador for multiple charity organizations. She is multi-lingual and can speak Danish, Portuguese, Spanish, and English. Her musical influences include Ariana Grande, Selena Gomez, Taylor Swift, Billie Eilish, Miley Cyrus.