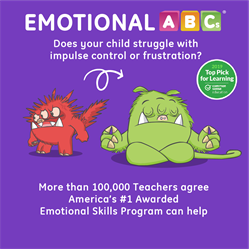 "So powerful and genius in its simplicity." ~ Stevie Award judges
LOS ANGELES (PRWEB) June 30, 2020
Emotional ABCs was named the 2020 winner of the GOLD Stevie® Award in the 'K-12 Course or Learning Management Solution' category during the 18th Annual American Business Awards®.
Stevie® Award judges described Emotional ABCs as, "So powerful and genius in its simplicity."
The American Business Awards are the U.S.A.'s premier business awards program. Out of more than 3,600 nominations from organizations of all sizes this year, Emotional ABCs was named the winner of the GOLD Stevie® Award in the 'K-12 Course or Learning Management Solution' category.
Ross Brodie, Emotional ABCs' CEO, is thrilled the company received the prestigious accolade, saying, "Thank you so much to the American Business Awards. The Stevie Gold Award is a culmination of 10 years of work by our team of psychologists, educators, artists, and software developers to make our program accessible to parents and teachers as well as fun and engaging for students."
More than 230 professionals worldwide participated in the judging process to select this year's Stevie Award winners.
"Despite the toughest business conditions in memory, American organizations continue to demonstrate their commitment to innovation, creativity, and bottom-line results," said Stevie Awards president Maggie Gallagher.
About Emotional ABCs
Emotional ABCs is America's #1 Awarded Social Emotional Learning (SEL) program and is used in more than 55,000 schools across the USA as well as at home by parents worldwide. Our evidence-based, online and in-classroom emotional skills programs are designed for children ages 4-11 and give children practical tools for dealing with impulse control, frustration, and acting out.
Emotional ABCs' content aligns with CASEL's areas of social competencies (Self-Awareness, Social Awareness, Self-Management, Responsible Decision-Making, Relationship Building) and is constantly updated by our team of educators, psychologists and therapists. Several formats of Emotional ABCs have been developed to meet different needs, including Parent Subscriptions, a Free-to-Teachers Emotional ABCs Classroom Subscription, and a Premium Schools option for school-wide accounts. Emotional ABCs' programs are available over many different platforms including desktop, tablet, and smartphone.
Details about The American Business Awards and the list of 2020 Stevie winners are available at http://www.StevieAwards.com/ABA.
Details about Emotional ABCs can be found at http://www.EmotionalABCs.com
About the Stevie Awards
Stevie Awards competitions receive more than 12,000 entries each year from organizations in more than 70 nations. Honoring organizations of all types and sizes and the people behind them, the Stevies recognize outstanding performances in the workplace worldwide. Learn more about the Stevie Awards at http://www.StevieAwards.com.
Emotional ABCs Awards
The prestigious American Business "Stevie" Gold "K-12 COURSE OR LEARNING MANAGEMENT SOLUTION" Award adds to the many accolades Emotional ABCs has earned across a broad spectrum of categories. These include Common Sense Media's 2019 Education "Top Pick for Learning", the National Association of American Publishers "Revere" Judges' Award, Tilliwig's "Brain Child" Award, Creative Child Magazine's "Product of the Year," and a "Great Find" Award from AblePlay.org, an organization that evaluates products for their effectiveness in teaching children who have learning differences.
Press Contact:
Mitch Wenter at Support[at]EmotionalABCs.com or 310-399-8762