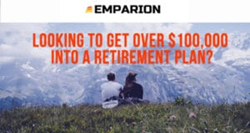 CHANDLER, Ariz. (PRWEB) April 03, 2020
Emparion, a leading provider of innovative retirement solutions, is offering a free cash balance plan or defined benefit plan document to the first three businesses that contact us during the month of April 2020. This includes the plan setup, but does not include annual administration fees.
Cash balance plans are high performance retirement plans that allow business owners to take advantage of increased contribution amounts and tax deductions. Our clients typically target contributions over $100,000 into the plan and are allowed full tax deferral.
"We realize that cost can deter some business owners from considering a cash balance plan or defined benefit plan, and as a result many business owners miss out on this little-known retirement strategy. These plans must include an actuary's involvement through annual funding calculation, valuation, and certification which typically increases cost in comparison to a 401k plan. Our goal is to make this as easy as possible and accommodate people outside our busy season," said Paul Sundin, Founder and CEO of Emparion.
As part of our solution, we are offering a FREE plan set up for the first three business owners who contact us and mention this press release. Below are the limitations and conditions under this offer:

Solo plans (or one participant plans) only
Initial consultation is included
Annual administration is paid up front
Prior service, customizations, or employee analysis is an extra fee
Only allowed for new clients, with no prior contact
At Emparion, we understand the complexities of retirement planning, and how without the right guidance clients can feel confused and overwhelmed. Our focus is to provide retirement plans that meet the retirement savings and tax structure goals of each client.
Click here for your free illustration
Please call us today at 1-844-340-1000 to take advantage of our promotion or to talk to one of our plan consultants.