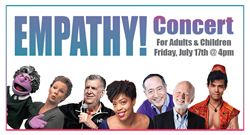 "Empathy is the most powerful tool and approach we need in these changing and difficult times. Empathy that is authentic is a key tool in moving to the next chapters of our lives, society, and organizations." - Elliott Masie
SARATOGA SPRINGS, N.Y. (PRWEB) July 16, 2020
Empathy is the most powerful tool and approach we need in these changing and difficult times. Empathy is also needed and appreciated by our families and children. We invite you to a special edition of our Empathy Concert, with songs, content, and approaches that are uplifting for children and adults! Join Empathy Concert hosts Elliott Masie and Telly Leung on Friday, July 17th from 4 pm to 5:15 pm EDT. Reserve a space here: https://www.masie.com/empathy717
Empathy Concert
Friday, July 17th – 4 pm to 5:15 pm EDT
Reserve a Space: https://www.masie.com/empathy717
Songs for Right Now from TV and Broadway Artists:

Alan Muraoka (Sesame Street, Actor & Director)
Jennifer Barnhart (Sesame Street, Puppeteer & Actor)
Angela Grovey (Newsies, Leap of Faith, 30 Rock)
Telly Leung (Aladdin, Glee, Rent, Allegiance, and Empathy Co-Host)
Perspectives on Empathy:

Marshall Goldsmith (Leadership Thinker, Executive Coach, NYT Best Selling Author, and More)
Elliott Masie (Learning Innovator and Empathy Co-Host)
Interactive Polls – Strategies and Challenges with Empathy
This is the 14th Empathy Concert Hour that we have produced since the beginning of the Pandemic. We have addressed the issues of "work from home", economic disruption, and racial injustice. EMPATHY is essential to our employees, our organizations, and yes, to our families and children in these uncertain times.
This week's Empathy Concert will bring a smile and helpful perspectives to friends of all ages! We will focus on the important role for learning and business leaders right now! Empathy that is authentic is a key tool in moving to the next chapters of our lives, society, and organizations. This will be an experience that will move you, your colleagues, and your families - as words, perceptions, and songs bring us together in a key discussion.
Please take an hour and be part of a unique, high-energy program. We have a limit of 3,000 live spaces on this free video session.
Join us! Empathy Concert, Friday, July 17th 4 pm to 5:15 pm. Reserve a space at https://www.masie.com/empathy717
To view our past Empathy Concerts and other events, please visit https://www.masie.com for archived video of all our sessions.