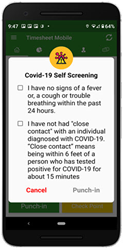 Having an automated COVID-19 safety screening process makes it easier to attract and retain employees and customers.
WESTBOROUGH, Mass. (PRWEB) June 16, 2020
Timesheet Mobile, a leader in geofence employee time tracking and workforce management, announced today that their employee time clock app now allows businesses to screen workers for COVID-19 and block them from punching in if they have COVID-19 symptoms or have been in close contact with someone with COVID-19.
Included in all subscription plans and immediately available at no extra cost, Timesheet Mobile's time clock app includes the COVID-19 Self-Screening option in the Employee Punch Settings. The app requires employees to affirmatively answer the default or custom screening questions in order to punch into a shift. If they fail the self-screen they cannot punch in and an alert is sent to their manager. The time and place of the failure are also recorded so employers can perform contact tracing and alert other employees who were in close contact with the employee.
Employers need to have a game plan on how they will protect their employees and customers as they return to work. Many States are recommending or mandating screening for certain workplaces and have zero tolerance for sick workers reporting to work. The U.S. Equal Employment Opportunity Commission has issued new guidance for employers so they can legally screen employees regarding COVID-19 symptoms. In Massachusetts they require employees to Self-certify prior to some shifts and require workers to leave the work site if they are sick.
"Timesheet Mobile understands the challenges businesses face as employees return to work. Having an automated COVID-19 safety screening process makes it easier to attract employees and customers, while keeping them safe," said Timesheet Mobile President Bob Drainville. "Integrating COVID-19 Self Screening in our app is the easiest way to prevent the spread of coronavirus in the workplace and allows our customers in Home Health Care, Janitorial, Security and the Trades to quickly screen workers before each shift."
The COVID-19 Self-Screening feature is available to all users of Timesheet Mobile's employee time clock app at no cost and can be enabled in the Smartphone App Punch Settings.