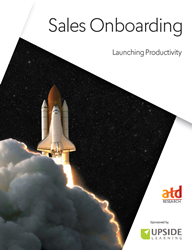 "Sales onboarding should include preboarding activities, a formal induction, and then work-integrated learning activities that continue through a rep's first year on the job." — Steven Rath Morgan, former head of global learning and talent development at Xerox
ALEXANDRIA, Va. (PRWEB) April 01, 2020
Sales onboarding can lead to faster productivity for new salespeople, according to new research by the Association for Talent Development.
About 77 percent of organizations surveyed in the ATD research report Sales Onboarding: Launching Productivity noted faster productivity as the top benefit for having a sales onboarding program, while 49 percent said that a sales onboarding program leads to stronger company and department cultures.
The research, sponsored by Upside Learning, showed that top barriers to effective sales onboarding are holding managers accountable for what is taught in sales onboarding and having a geographically dispersed workforce, cited by 56 percent and 38 percent of respondents, respectively.
Supervised video coaching can help organizations overcome both obstacles. For example, sales representatives submit recordings of elevator pitches to their managers, after which the sales managers give feedback to the representatives. A sales coach reviews the responses and gives the managers their own feedback. The process, ". . . doesn't let managers do the minimum," said Steven Rath Morgan, former head of global learning and talent development at Xerox. "They can't just say 'nice job' and move on, and they also can't fall back on logistical excuses."
Other key takeaways in the report include:

Most organizations (62 percent) have a sales onboarding program, and another 17 percent plan to start one in the next two years.
Among organizations that provide sales onboarding, 97 percent require it for new hires with and without sales experience.
Nearly nine in 10 (88 percent) of sales onboarding programs attended by inexperienced new hires and 87 percent of those attended by experienced new hires included on-the-job learning.
Some of the best practices associated with better sales performance include offering extended sales onboarding programs, using rotational training, teaching various sales skills, and providing all newly hired sales leaders with management training.
Extended sales onboarding is the most effective sales onboarding. When organizations offered sales onboarding lasting more than six months, they were significantly more likely to be top performers.
"You shouldn't just pull people out of work for a one-and-done event," said Rath Morgan. "Sales onboarding should include preboarding activities, a formal induction, and then work-integrated learning activities that continue through a rep's first year on the job."
A free webcast about the results of this report is schedule for April 20 at 2 p.m. ET.
About ATD
The Association for Talent Development (ATD) is the world's largest professional membership organization supporting those who develop the knowledge and skills of employees, improve performance, and help to achieve results for the organizations they serve. Originally established in 1943, the association was previously known as the American Society for Training & Development (ASTD).
ATD's members come from more than 120 countries and work in public and private organizations in every industry sector. ATD supports talent development professionals who gather locally in volunteer-led U.S. chapters and international member networks, and with international strategic partners.
For more information, visit td.org.