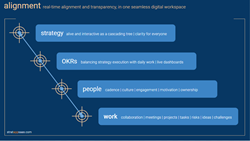 We believe #stratapp is an innovation that almost every leader has imagined, and that every leader needs in this post COVID-19 world.
BRISBANE, Australia (PRWEB) November 10, 2020
The findings suggest that a major source of this decoupling is the sheer number of apps with which employees must now interact. #stratapp said it estimated the average worker utilizes upward of 15 apps across finance, service, support, HR, time, collaboration, meetings, projects and tasks.
"The problem for employees is there are simply too many apps they need to jump in and out of throughout the course of the day," said Ash Richardson, co-founder of #stratapp.
Said Richardson, "The hardest thing for any leader is to keep their remote workers, contractors, partners, suppliers and in-office staff moving together in the same direction—and not just aligned, but also motivated, engaged and really believing in what the company is trying to accomplish. Employers lament that they've got an app for everything, but nothing that truly enables the collaborative formulation of strategic plans and inclusive execution by distributed teams. Consequently, a leader could be touching a dozen or more apps and still be in the dark about what's really going on in the company, or where they can add the most value."
#stratapp offers a solution to the disconnect created by the deployment of too many apps, said co-founder Marten Jagers. The solution, he indicated, comes in the form of a unique all-in-one digital workspace bearing the same name as the company, #stratapp.
Introduced earlier this year and now utilized by companies large and small across five continents, this all-in-one solution delivers "everything you need to start, manage and grow the organization—aligning and motivating your teams on strategy execution—all from a single workspace," said Richardson.
#stratapp's all-in-one digital workspace is designed to empower true collaboration across "The Leadership Cycle", beginning with ideation, and then extending into the planning, strategizing, and execution stages, Jagers offered.
"The #stratapp concept is to radically simplify how a company achieves what it sets out to do," he said. "We see our mission as aligning everyone, at all levels and wherever they choose to work from, in one digital workspace that balances strategic initiatives and daily work."
Richardson revealed that the #stratapp all-in-one concept began as a research project to evaluate business apps of all types dating back to 2010. The company's research eventually zeroed in on strategy, work and social tech innovations. "We asked ourselves, why haven't these brilliant tech innovations of the last 10 years been applied to achieve strategy execution in an inclusive way that aligns and engages everyone?," he explained.
#stratapp's research ultimately identified six key elements of collaboration necessary to power The Leadership Cycle. They are:

Social with structure-and-context
Live meeting notes, files and links
Ideas and challenges
Initiative/project workboards
Tasks and sub-tasks
Risk management
"All six are built into #stratapp, creating one seamless digital workspace for everyone," said Jagers, "yielding time and cost savings on integrations, minimization of app switching, and the near elimination of data silos and their potential for causing misalignment."
Richardson indicated that #stratapp cuts an employer's per-user SaaS fees by a factor of 17 to 35, and says that savings will further increase as #stratapp deliver on the planned roadmap.
"#stratapp is affordable, easy to use and can be up and running in less than a day," he added.
The full-featured #stratapp SaaS offering carries a monthly fee of only $4.90 to $6.90 per user.
A free trial of this all-in-one digital workspace is available at https://stratappsaas.com. Richardson said the #stratapp team, or the company's partners, "will have your leaders and teams up and running effectively after two one-hour workshops."
Jagers reported that this size-, sector-, and geography-agnostic all-in-one digital workspace is suitable for companies with five to 5,000 or more employees.
"Thanks to COVID-19, work from anywhere is here to stay," he contended, "but sustaining employee alignment, effectiveness and engagement needs a lot more than social chat and video calls. Employees need context and purpose, and leaders need the ability to evolve those easily, preferably in real time. We believe the #stratapp all-in-one digital workspace is an innovation that almost every leader has imagined, and that every leader needs in this post COVID-19 world."
For more information, please visit the #stratapp website:
https://stratappsaas.com/strategy-execution/