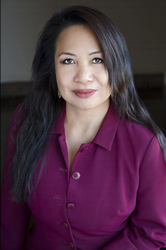 I joined the fight and switched to the law so that I could dedicate my life to fair treatment and equality in the justice system.
LOS ANGELES (PRWEB) December 05, 2019
In the Angeleno article, Jaramilla, who is passionate about civil rights and is an active #MeToo advocate, discusses social justice. "I was pre-med at UCLA when I heard students marching for a grape boycott based on the oppressive treatment of farmworkers," said Jaramilla, the daughter of Filipino immigrants. "I joined the fight and switched to the law so that I could dedicate my life to fair treatment and equality in the justice system."
What makes Jaramilla, who was also recently named to the Daily Journal's Top 75 Labor & Employment Lawyers list, such a dynamic social warrior is using the power of persuasion to influence employers, jurors, judges and lawmakers to help society treat others with fairness and equality. For example, Jaramilla, a current member and past Chair of the California Employment Lawyers Association (CELA), recently did legislative work alongside CELA leaders and helped draft laws inspired by the #MeToo movement and her own clients that then California Governor Jerry Brown signed into law last year, and Governor Newson signed this year.
For more than 24 years Jaramilla has practiced employment law exclusively. She has litigated hundreds of cases of discrimination, harassment, wrongful termination, and unpaid overtime wages, resulting in millions of dollars in settlements and verdicts. In addition to practicing employment law, Jaramilla is a frequent speaker at educational programs and radio shows and recognized as an employment law expert on various employment law topics, including legislation spurred by the #MeToo movement.
About Toni Jaramilla, A Professional Law Corporation
Toni Jaramilla is committed to achieving the best possible results for employees who have experienced problems in the workplace. Serving clients throughout Los Angeles, her focus is on achieving positive social change for workers. Through zealous and ethical advocacy, lawyers at the firm have built a reputation for excellence in the practice of employment and labor law. For more information, please call (310) 551-3020, or visit http://www.jaramilla.com. The office is located at 1900 Avenue of the Stars, Suite 900, Los Angeles, CA 90067. To read more about Toni Jaramilla in the news, visit https://thenala.com/media-room/media-room-detail/toni-jaramilla-a-professional-law-corporation.
For media inquiries, please call THE NALA at 805.650.6121, ext. 361.