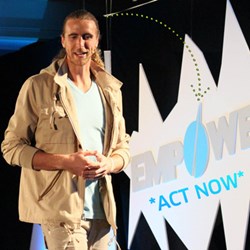 Troy Shanks said, "I believe Empower Network's Blog Beast focuses on simplicity and execution of all blogging necessities better than any mobile blogging software system than ever created before.
Anaheim, CA (PRWEB) October 16, 2013
The much anticipated big launch day of the innovative, mobile-friendly blogging platform and system Blog Beast by Empower Network is here.
The company will release Empower Network Version 2.0 (ENV2 Blog Beast) to new costumers starting Oct 18, 2013. According to online experts and blogging enthusiasts across the world, this will be one of the biggest product launches in the industry of online marketing and home based businesses.
With over 3 million dollars and more than one year of research and development invested and tested, the creation of BlogBeast blogging system has skyrocketed the movement, engagement, and investment bloggers have been looking for.
The new, sleek, business building blogging platform will allow customers to have a customizable blog site on their own uniquely branded domain built and powered by The Empower Network software and platform, which according to Alexa is one the most trafficked websites and ranks as a top 300 website in the entire world.
The new Empower Network Blog Beast blogging software system offers a wide array of functionality and features that is sure to carry a mass appeal to all of those looking to start a website to market any product, service, or business idea.
The Launch of Empower Network's Blog Beast will help those involved but not limited to the industries of:

Home Based Business
Network Marketing
Multi-Level Marketing
Internet Marketing
Affiliate Marketing
Direct Sales
Real Estate
Professional Services
Medical Services
Specialty Services
The greatest advantage and benefit of utilizing the highly regarded and evolved ENv2 Blog Beast is to make it easier for entrepreneurs to connect with targeted prospects and potential customers 24/7.
Blog Beast aims to leverage the power of the Internet to help entrepreneurs grow and expand their business online by enhancing the way in which bloggers connect with their global audience.
One of the newest features of Blog Beast includes:
A new mobile Empower Network app (available iPhone and Android) that will help manage a blog from a mobile device.
The simplicity and ability to post videos, images, content and audios to the blog in 2 simple clicks.
The ability to set up multiple blogs, for any subjects, and manage them all from one single dashboard account!
The BlogBeast by Empower Network has created one of the largest communities of bloggers and entrepreneurs worldwide, making it one of the most prestigious content publishing forums on the internet.
In addition to providing a blogging outlet, there is a tremendous amount of high quality online marketing and leadership training to help new businesses, start-ups, and small businesses create a hub to be accessible to more prospects and leads.
A product of this magnitude that offers such diverse variety and versatility is sure to enhance and attract a new kind of customer.
To launch the new platform the co-founders and leaders of Empower Network; David Wood, David Sharpe and Troy Shanks, all decided to make an entertaining and informative Blog Beast Redemption Movie Premiere about the blogging blunders to avoid and why the new solution is here to help members and customers to understand the benefits of a marketing-blogging system.
The Blog Beast is the most anticipated blogging software launch in the history of the Internet marketing space.
The simple, easy to use system offers the ability for customers to become affiliates and market the blogging system as an opportunity they can earn a living from. According to Empower Network official site, the company has paid out over 60 million dollars to affiliates in the past 2 years.
Empower Network's execution and driving force behind the Blog Beast system has created a unique opportunity for bloggers to share, show, and expose valuable content that is extremely engaging and interactive, which to this point has allowed thousands of hungry entrepreneurs engineer residual results in the online marketplace.
The secret of Empower Network relies on the company's cutting edge step-by-step marketing training information which focuses on helping customers and affiliates target specific traffic sources while creating messages that resonate with their audience and specific niches.
The new Blog Beast platform includes an abundance of newer features as the updates and contributing attractor factors far exceed the previous version of the initial Empower Network viral blogging system.
Some of the newer benefits include:
Blogging platform - Simple 2 Step Blogging System
Mobile Application for Audio and Video Broadcasting - build a business form your phone
Sales Conversion Engine - Automate and Streamlined Process
To learn more about the Blog Beast and how it can be use to create a powerful marketing strategy online – make sure to watch the free movie Blog Beast Redemption here.