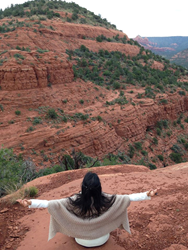 The time is Now to reclaim Your Power!
SEDONA, Ariz. (PRWEB) December 24, 2018
Anahata Ananda, founder of Shamangelic Healing, announces her Empowerment and Awakening Weekend Intensive is now open for registration. The multi-day course will be held March 21–24, 2019 in breathtaking Sedona, Arizona at the Best Western Plus Arroyo Roble Hotel & Creekside Villas. This event sold out for its October 2018 offering and is slated to do the same for the springtime course.
Anahata, Certified High Performance Coach, and Shamanic Healer and Soul Guide for Empowerment and Awakening, draws from her decades worth of experience guiding thousands of clients through core life shifts. Throughout the interactive weekend, Anahata shares personal empowerment tools among the breathtaking views of Sedona's majestic red rocks. The classroom environment is immersed in Sedona's powerful vortex energy while students learn how to navigate healthy, conscious relationships, formulate clear boundaries, practice meditation techniques, explore vibrant nutrition, quantum manifestation, and balance physical energy. These courses are available online for those who are unable to attend the event in person.
Students receive a workbook to refer back to for integration once they return home. "It's packed with deeply life shifting tools to help people lead a thriving life," says Anahata. "I want everyone to be able to have what we learn over the weekend, at their fingertips when they need it."
The retreat also offers the opportunity for personal release and rejuvenation through a classroom style setting with like-minded people. "The supportive community gained from this weekend immersion has the potential to propel you forward in ways you've never imagined ," Anahata points out. The Shamanic healer will be available for personalized sessions before and after the weekend, for an additional fee.
"If your life is in overwhelm, chaos or if you're navigating with no direction, this course will give you the tools to turn it around," assures Anahata. In this fun, supportive environment, interactive learning and healing can occur simultaneously throughout the weekend. The facilitator's goal is to inspire millions to live up to their highest potential by sharing her roadmap to a thriving life. Those seeking to learn how to live the life they've dreamed of to the fullest extent are encouraged to attend this impactful weekend. "I have passionately guided thousands of individuals on inwardly soulful, transformational journeys to release fears, heal deep emotional wounds, and open their hearts to reclaim their power," says Anahata.
Anahata Ananda has trained extensively with gifted Shamans, energy healers and spiritual teachers from North America, Peru, India and Asia in order to artfully integrate the fields of self-empowerment, Shamanic teachings, emotional release, energy healing, relationship counseling, spiritual studies, yoga, meditation and empowered living. She has completed the highest level of global coaching certification program with Brendon Burchard. Anahata is a certified yoga teacher and Master meditation teacher.
For those unable to attend the weekend intensive, Anahata offers a variety of Shamangelic Healing services year-round, including private sessions, and training courses that incorporate Shamanic teachings and other energy healing modalities. She also offers Tailored Retreats for individuals, couples and small groups that can include a combination of private healing sessions based on various needs and areas of interest.
For detailed descriptions and a calendar of all training courses and spiritual awakening services offered by Anahata visit http://www.shamangelichealing.com/