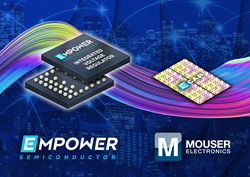 Design engineers now have easy access to Empower Semiconductor's innovative Integrated Voltage Regulator technology, backed by Mouser's unsurpassed customer service and best-in-class logistics.
MILPITAS, Calif (PRWEB) November 12, 2021
Empower Semiconductor, Inc., the world leader in Integrated Voltage Regulators (IVR), announces a new global distribution agreement with Mouser Electronics Inc., the authorized global distributor with the newest semiconductors and electronic components. Empower Semiconductor's products deliver the smallest and highest performance solutions in the industry and are set to make a major impact in a $10 billion segment of the high-performance power management market.
Through Mouser, Empower Semiconductor will offer their Integrated Voltage Regulator product series and test platforms, including the new E-CAP™, an industry leading silicon capacitor that is far exceeding the semiconductor industry's previously leading Multi-Layer Ceramic Capacitors (MLCC) that targets both power integrity and signal integrity in both high di/dt and high-speed communications SoCs, providing high stability with no DC or AC bias de-rating, no temperature de-rating and no significant signs of ageing. Combined with the ultra-low ESL (15pH), E-CAP provides a highly simplified and reliable solution to the system designer. This highly differentiated high-performance technology is available in configurations up to 8.4µF.
"Design engineers now have easy access to Empower Semiconductor's innovative Integrated Voltage Regulator technology, backed by Mouser's unsurpassed customer service and best-in-class logistics," said Kristin Schuetter, Vice President of Supplier Management at Mouser Electronics. "We are excited for this new partnership and the opportunities it presents for our global engineering customers as they design tomorrow's products."
The Empower IVR™ series has achieved the total integration of a triple-output DC/DC power supply with no external components into a single tiny 5mm x 5mm package. The result is up to 10x higher current density, 3x tighter accuracy during transients, and 1,000x faster dynamic voltage scaling (DVS) than leading competitors and features the world's fastest load transient response and regulates through a 0 to 10A load step in 500ns with <15mv droop, with ZERO output capacitors.
"Empower Semiconductor has commercialized the most innovative power management technologies to date with the integrated voltage regulator (Empower IVR™) and E-CAP product families," said Steve Shultis, Senior Vice President WW Sales and Marketing at Empower Semiconductor. We are thrilled to forge a global partnership with Mouser to bring our innovation to the engineering community worldwide!"
To learn more about Empower Semiconductor's products available from Mouser Electronics, visit https://www.mouser.com/manufacturer/empower-semiconductor/.
About Empower Semiconductor
The exponential increase in the amount of data being communicated and processed around the globe is driving the energy consumption of data centers and communications networks to 17% of total electricity demand worldwide by 2030(1), dramatically increasing pollution, carbon emissions and cost. Empower Semiconductor was founded with the mission to "minimize the energy footprint of the digital economy" by developing novel fully integrated power management solutions that both increase the performance and reduce the power consumption of energy-hungry, data-intensive applications.
Traditional power solutions require dozens of discrete components with big footprints, complex designs and deliver power inefficiently with poor response times and inaccuracies. Empower Semiconductor's patented IVR technology integrates dozens of components into a single IC increasing efficiency, shrinking footprints by 10x and delivering power with unprecedented simplicity, speed & accuracy and with zero discrete components. The Empower IVR™ technology solves the power density challenge to address a wide range of applications including mobile, wearables, 5G, AI, and data centers. In 2020 the capacitor technology platform was added to further address power density. E-CAP revolutionized the capacitor industry as the world's smallest, highest performing, and incredibly reliable capacitor for wearables, mobile, and SoC applications. The company is based in Silicon Valley, CA and is led by a team of highly experienced power experts and executives.
(1) Nature, "How to stop data centres from gobbling up the world's electricity", September 2018
About Mouser Electronics Inc
Mouser Electronics, a Berkshire Hathaway company, is an authorized semiconductor and electronic component distributor focused on New Product Introductions from its leading manufacturer partners. Serving the global electronic design engineer and buyer community, the global distributor's website, mouser.com, is available in multiple languages and currencies and features more than 5 million products from over 1,100 manufacturer brands. Mouser offers 27 support locations worldwide to provide best-in-class customer service in local language, currency and time zone. The distributor ships to over 630,000 customers in 223 countries/territories from its 1 million-square-foot, state-of-the-art distribution facilities in the Dallas, Texas, metro area. For more information, visit https://www.mouser.com/.
Empower Semiconductor and the Empower logo are trademarks or registered trademarks of Empower Semiconductor, Inc. All other brands, product names and marks are or may be trademarks or registered trademarks used to identify products or services of their respective owners.