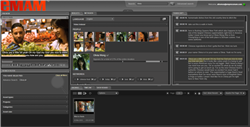 "We are excited about our newest version, featuring additional option for transcoding, great options for AI tagging, and an extension of our leadership in cloud and PAM workflows."
NEW YORK (PRWEB) August 09, 2018
Empress Media Asset Management (Empress), developer of the widely used eMAM™ media asset management platform, announces the release of eMAM version 5.0. This new version adds artificial intelligence (AI) integration for automated transcription and recognition of faces, brands, key words, and more; new transcoding, storage, and archive options; Marquis MEWS integration for Avid workflows, additional integrated features with Adobe Creative Suite CC; and many new web interface additions. eMAM 5.0 adds new performance improvements to its media management and processing workflows by implementing .Net Framework 4.5 into the core product. Database and other core updates will speed and improve the user experience.
eMAM leverages integrations with six different AI engines to offer customers a range of options to best meet their needs for enriching archives or tagging current content. These AI options include Amazon Rekognition, Microsoft Video Indexer, IBM Watson Video Enrichment and Speech to Text, Microfocus IDOL, VoiceBase, and Avid Dialogue Search.
eMAM offer customers interoperability with a range of storage, archive, and transcoding options. Additional cost-effective storage and archive options include Amazon Glacier, Dell ECS, IBM COS, NetApp Storage Grid, Backblaze B2, Object Matrix and Cloudian. eMAM now allows ingest job management using the AWS Lambda technology, which allows transcoding on demand through AWS Media Convert and Elastic Transcoder. Drastic Net X-Copy and Net-X-Proxy offer cost effective and powerful transcoding options.
Empress continues to improve its seamless integration with Adobe Premiere Pro CC through a built-in extension panel, now also available in Adobe InDesign CC and Adobe After Effects CC. Editors can search and proxy preview media managed by eMAM in the cloud. They can localize media for mezzanine or full resolution editing. Finished sequences can be exported with media to eMAM for review and approval, email and social media sharing, digital delivery, and archiving. Non-technical staff can use eMAM to create projects, add media, mark, subclip, and rough-cut edit directly from the tablet or web interfaces. The system leverages Adobe Media Encoder, integrated with Adobe Premiere Pro, to provide transcoding on demand in the cloud between any of the vast array of supported codecs and formats. Organizations can now use local proxy-mezzanine edits on workstations, with a final conform with the native resolution content in the cloud
David Miller, COO of Empress commented, "we are excited about our newest version, featuring additional option for transcoding, great options for AI tagging, and an extension of our leadership in cloud and PAM workflows."
eMAM is available from Empress at http://www.empressmam.com.