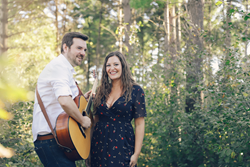 "We're very excited to have hit the Pollstar chart," says the band's guitarist and co-lead singer Josh Solomon. "We usually tour all the time, but ever since the pandemic hit, we've been doing livestreams. We're getting tons of viewers to our weekly online shows, and each one gets bigger and bigger.
CHICAGO (PRWEB) October 15, 2020
The beloved Chicago-based Americana band the Empty Pockets have hit a new career milestone, having recently cracked Pollstar's Livestream chart on two separate occasions for online concert events the band staged on August 28 and September 26. The September event was the first show of their recently announced North Avenue Series, a three-part ticketed livestream concert event.
"We're very excited to have hit the Pollstar chart," says the band's guitarist and co-lead singer Josh Solomon. "We usually tour all the time, but ever since the pandemic hit, we've been doing livestreams. We're getting tons of viewers to our weekly online shows, and each one gets bigger and bigger. We couldn't be happier."
With their online shows booming, the Empty Pockets (which also consists of vocalist/keyboardist Erika Brett, bassist Nate Bellon, and drummer Adam Balasco) officially kicked off their North Avenue Series on September 26 with Live From North Avenue, a livestream event that hit #47 on the Pollstar Livestream Charts.
The second livestream show in the series, Live From North Avenue & Abbey Road, will feature the group playing the classic Beatles album Abbey Road in its entirety. It takes place on Saturday, October 31. The series wraps with Xmas From North Avenue, in which the band will perform holiday hits new and old (even some of their own). The show streams on Saturday, December 19.
All shows take place at 10am PT/ 12pm CT/ 1pm ET/ 5pm GMT/ 6pm UK. A ticket to each show is $20, but fans can grab a special three-fer package of just $45. Tickets can be purchased HERE.
These concerts are in addition to the band's Weekly Online Concerts they perform free (on Facebook, YouTube and Twitch) each Wednesday at 3pm CT from their North Avenue studio in Chicago.
"It's really interesting how the industry has embraced livestreams," says Solomon. "We're fortunate in that we have our own studio. We set it up so that we can socially distance ourselves, and it's been great. Our audience has really embraced this way of seeing us. We do our own shows, plus fundraisers and corporate events – people really want live music, and for the time being, this is the only way to get it."
There will also be a free New Years Eve show (on Facebook, YouTube, and Twitch), starting at 10:30pm CT, in which the band will play music, chat with guests around the country and ring in the new Yeah in all four major American Time Zones.
The group is also issuing a rousing and poignant new single, "No Matter What They Say." Showcasing the vibrant and enchanting dual-lead vocals of Solomon and keyboardist Erika Brett, the song is a raucous and uplifting powerhouse, brimming with ear-candy hooks from start to finish.
"Most of our songs are full band recordings, but this one is just me and Erika," says Solomon. "The nature of the song is pretty important. It was inspired by my brother, who is now my sister. Regardless of who you are in life, there's always going to be somebody who tries to push you around. But no matter what anybody says, you just have to be true to yourself. That's especially true for transgender people."
In addition to performing their own music, the Empty Pockets have occasionally served as the backing band for a number of legendary artists such as Kenny Loggins, Gary Wright, Richie Furay (of Buffalo Springfield), Simon Kirke (of Bad Company) and Al Stewart.
Recently, Josh Solomon and Erika Brett kicked off their own innovative interview/performance livestream series called Stories & Songs, and they welcomed Al Stewart as their first guest. "We're really thrilled that Al was our first guest," says Solomon. "Al Stewart is a friend, and it was great to interview him about his life and then have him play songs that inspired him. We did it 'socially distanced' – he was in California and we were in Chicago, and it went off without a hitch. We're looking forward to doing more episodes with other artists soon."
The band's relationship with Stewart continues further, as they're joining the iconic folk-rocker (along with his longtime guitarist Peter White) in a collaborative studio effort, produced by Solomon and recorded at their Chicago studio.
Since they burst on the scene in 2015 with their debut album, The Ten Cent Tour, the Empty Pockets have wowed critics and fans with their distinctive blend of classic rock, folk and blues. The band's 2017 release, Voices, was soon followed by a host of Billboard-charting independent albums: 2019's holiday-themed EP, Snow Day; a new studio set titled Tanglewoods; and the concert album, Live in Seattle.
Ever in demand as a headline act, the Empty Pockets have also served as openers for artists such as Bob Schneider, Rev. Peyton's Big Damn Band, Dickey Betts (Allman Brothers) and Dave Mason (Traffic), among many others.
Raves AMD Entertainment, "When the Empty Pockets play, they don't just go through the motions of belting out tunes and revving their guitars to impress you – their performances are offset with a vibrancy and a sort of energetic showmanship so that space and distance don't matter in the end – rather it's more of which of their carefully crafted songs will strike a chord within you first."
At the start of the pandemic, the Empty Pockets launched their virtual VIP club called EPIC (Empty Pockets Insider Club) in which they meet fans live every other Friday – it's part private concert/virtual cocktail party and cooking experience. They've also raised money for worthy causes via public and ticketed livestreams, taking in over $15,000 for the Rustic Falls Nature Camp and over $10,000 for the Greater Chicago Food Depository.