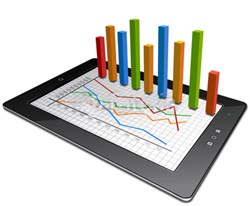 Preventive measures have given rise to corporate wellness programs around the globe, a market where the value of a portable EMR can't be understated.
Denville, NJ (PRWEB) December 29, 2013
"The sooner private practice owners embrace EMR technology the better. In the 21st century practice, there's no good reason for clinics to be chained to paper records, bulky equipment and old-fashioned methods," said Chhoda. "EMRs offer convenience for clients and clinicians, providing the portability to expand into new and lucrative markets."
Chhoda added that practitioners must be vigilant and take advantage of new markets when opportunities present themselves. A web-based EMR employed with tablet technology allows therapists to be as mobile as their clientele and provide services in venues that wouldn't previously have been easily accessible.
The contemporary trend among medical professionals is promotion of a healthy lifestyle to minimize or avoid problems before they arise. Preventive measures have given rise to corporate wellness programs around the globe, a market where the value of a portable EMR can't be understated.
Practice owners have access to large numbers of clients in a single location and the portability of an EMR allows therapists to travel to multiple locations and take the needed forms and records with them.
Stress is a recent major factor in many client complaints. Therapeutic massage was once a service only provided in a clinical setting, but many therapists are utilizing the portability of an EMR to exercise their expertise in posh spas, luxury resorts and sports clinics. A portable EMR system can be accessed from any location where an active Internet connection is available.
According to Chhoda, an aging population is utilizing the services of physical therapists to stay limber, active and relieve pain. Enterprising practitioners are using portable EMR technology to proffer a wide range of services at senior citizen facilities and through in-home care programs. The EMR offers the means for maintaining on-the-go evaluations, patient documentation, insurance information and medical billing.
Chhoda's new information touches on just some of the many ways portable EMR technology can be used to expand services, develop additional sources of income and expand their client base from virtually any location.
Chhoda's office can be reached by phone at 201-535-4475. For more information, visit the website at http://www.emrnews.com.
About Nitin Chhoda
Nitin Chhoda PT, DPT is a licensed physical therapist, a certified strength and conditioning specialist and an entrepreneur. He is the author of "Physical Therapy Marketing For The New Economy" and "Marketing for Physical Therapy Clinics" and is a prolific speaker, writer and creator of products and systems to streamline medical billing and coding, electronic medical records, health care practice management and marketing to increase referrals. He has been featured in numerous industry magazines, major radio and broadcast media, and is the founder of Referral Ignition training systems and the annual Private Practice Summit. Chhoda speaks extensively throughout the U.S., Canada and Asia. He is also the creator of the Therapy Newsletter and Clinical Contact, both web-based services to help private practices improve communication with patients, delivery better quality of care and boost patient retention.