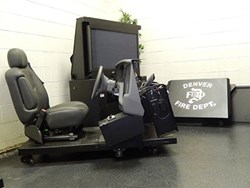 Whenever we can create a simulation scenario, we want to try and do that. This just allows us to expand our reality-based training even further.
Denver, CO (PRWEB) December 16, 2013
Community College of Aurora has received a driving simulator for use in its Emergency Medical Services, Police and Fire Academies as a donation from intergovernmental partners City and County of Denver and Denver Fire Department, helping the college further enhance its training capabilities for first responders.
"One of the biggest things you can do to put wear and tear on a vehicle is train people to drive urgently in it, so this is a really great thing to have," said Beth Lattone, department chair for CCA's EMS and Fire Science Technology departments.
The City and County of Denver and Denver Fire donated the driving simulator to the CCA Foundation for the benefit of the college. There no longer was a space for the simulator at Denver's joint training center. It previously was used by Denver Fire at the Rocky Mountain Fire Academy, according to the donation agreement signed by all parties.
"Brand new the unit would cost about $250,000," Mark Stephenson said. Stephenson provides Colorado firefighter training as CCA's Fire Science Technology Coordinator.
The simulator has two driving "seats" that will connect to a big-screen TV with software designed to mimic road conditions and potential hazards. One of the seats is equipped with a normal automatic transmission and light box setup found on a police car or ambulance; the other has a diesel framework, with parking brake and battery switch regularly used on a fire rig.
"It's just one more opportunity we can offer to our students as far as simulation," said Renie Del Ponte, dean of Health Sciences and Public Safety. "Whenever we can create a simulation scenario, we want to try and do that. This just allows us to expand our reality-based training even further." Del Ponte oversees departments that provide Colorado police training as well as fire and EMT training.
CCA already is well known nationally for its simulation capabilities. The Center for Simulation has several spaces, including house, bar, attic, industrial, elevator and high scaffolding scenes. High fidelity mannequins can mimic scenarios from a simple heart attack to a woman giving birth. There are two full-sized ambulances and an ambulance box.
There is also a fully functional Emergency Operations Management Center, with Microsoft Surface tabletops, smart boards, big-screen televisions and other tools to handle wide-scale and small-scale disaster communications.
The latest addition to those technological capabilities will be set up by CCA faculty in the coming months and curriculum will be adapted to include the driving simulators for use in classrooms by the fall semester.
"Both police and fire academies use driving as aspects of training, and both are specialized skills," Del Ponte said. "The simulators allow them to get some of that done before driving in an actual vehicle, making it an easier process to acclimate to a regular police car, fire truck or ambulance."
###
About CCA
Community College of Aurora has campuses at CentreTech and Lowry in the greater Denver area. Equipped with the latest technologies, CCA allows students to study new and traditional programs, while also offering degrees and online courses in Colorado. CCA's service community spans 325,000 people in a 350-square-mile area and CCA's student population reflects that diversity. The college provides lifelong educational opportunities, prepares the current and future workforce, and promotes excellence in teaching, learning and service.